To celebrate the 40th anniversary of it's original release, Swallows & Amazons has been beautifully restored and will be released on Special Edition DVD, and Blu-ray for the first time, in July by StudioCanal.
Arthur Ransome's legendary children's novel Swallows & Amazons was published in 1930 as the first part of what was to become a much-loved literary series. This beautifully filmed adaptation, written by renowned children's playwright David Wood (whose latest adaptation The Tiger That Came To Tea opens in July at the Lyric Theatre), depicts the adventures of four children and their sailing boat Swallow.
Set in the Lake District in the 1920's, Swallows & Amazons follows the children (played by Simon West, Sophie Neville, Suzanna Hamilton and Stephen Grendon) whilst on summer holiday with their mother (Virginia McKenna, Sliding Doors, Born Free). During this trip the children are given permission to sail Swallow to nearby Wild Cat island to set up camp. However what they don't know is that two rival girls and their boat the Amazon have already claimed the island as their own.
A heartwarming and enduring tale that finds new fans in every generation, Swallows & Amazons is set to have a brand new BBC adaptation, which starts shooting later this year starring Dan Stevens (Downton Abbey). 2014 also marks the 50th anniversary of the passing of Arthur Ransome.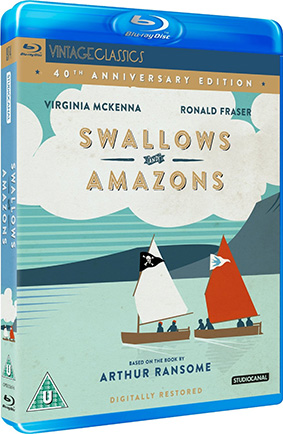 Swallows & Amazons will be released on UK DVD, Blu-ray and EST download on 14th July 2014 by StudioCanal at the RRP of £17.99 for the DVD and £22.99 for the Blu-ray.
Special features will include:
Interviews with Sophie Neville, Suzanna Hamilton and Virginia McKenna

Locations featurette

Behind the scenes footage with commentary from Sophie Neville

Stills gallery

Trailer