Network Distributing are just not pausing for breath at the moment and are releasing new titles in their ongoing project 'The British Film' collection every couple of weeks. They have just announced another three titles for a July release – Dulcima, The Man Who Loved Redheads and Girls Will Be Boys, plus a rescheduled release for What a Crazy World. All will be released on 7th July 2014 at the RRP of £9.99 each).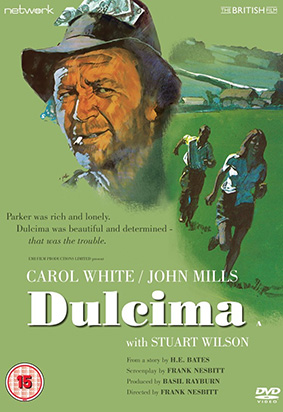 Dulcima (1971)
Acclaimed drama Dulcima casts Cathy Come Home star Carol White as a young woman whose determined efforts to escape a life of rural poverty leads to tragedy. Oscar winner John Mills (Ryan's Daughter) is the lonely, ageing farmer with whom she finds work, accommodation and the promise of easy money. This much sought after rarity earned director Frank Nesbitt a Golden Bear at the Berlin Film Festival in 1971.
Dulcima, a pretty girl treated as a drudge by her family, lifts herself from her environment by becoming housekeeper to Parker, a curmudgeonly widower living in drunken disarray on a neighbouring farm. When she sees the amount of money he has stashed around the place, Dulcima is happy to indulge his growing desire for her, and a strange, yet mutually beneficial, relationship develops. But a handsome young gamekeeper also catches Dulcima's eye and her deceit combined with Parker's jealousy leads to a dramatic climax.
Extra features:
Original pressbook PDF
Original theatrical trailers
Image gallery
Instant play facility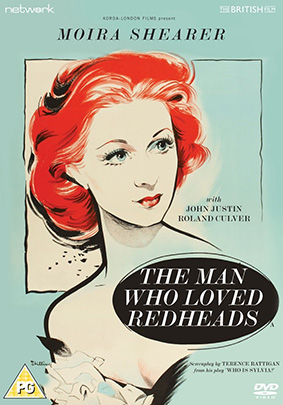 The Man Who Loved Redheads (1955)
Mark St. Neots, a young peer and a junior member of the Foreign Office, is a man destined for a long and distinguished career in the Diplomatic Corps. However Mark is obsessed by a face - that of Sylvia, a 16-year-old redheaded girl whom, in his boyhood, he vowed he would love for eternity. Although many years have passed since he made the promise and he is now a respectably married man, Mark has never forgotten the face that symbolises his ideal woman.
Titian-haired screen icon Moira Shearer (The Red Shoes) takes centre-stage to play multiple roles in this ravishing romantic comedy, adapted by Terence Rattigan from his stage play Who Is Sylvia? and co-starring Roland Culver, Denholm Elliott and Harry Andrews.
Extra features:
Promotional material PDFs
Original theatrical trailer
Image gallery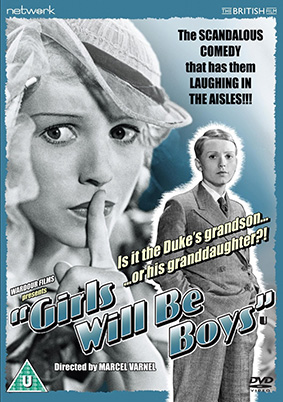 Girls Will Be Boys (1934)
The mere idea of a woman in his castle made the Duke of Bridgewater feel ill. Behind his misogyny lay a family scandal that had left him irascible, lonely, and heirless. Then one day, a letter arrived from abroad. Beginning 'Dear Grandfather' and signed 'Pat Caverley', it seemed to signal that the Duke had an heir after all – and the old man promptly ordered Grey, his secretary, to fetch the boy. To Grey's horror, 'Pat' turned out to be 'Patricia' but would the Duke notice if his grandson was a little effeminate?
Among the first films made in Britain by legendary comedy director Marcel Varnel (Oh, Mr. Porter!), this delightfully mischievous film also marked the British screen debut of Dolly Haas, providing a typically androgynous role for the gamine German star. Girls Will Be Boys (U) will be released on DVD in a brand-new digital transfer.
Extra features:
Image gallery
Instant play facility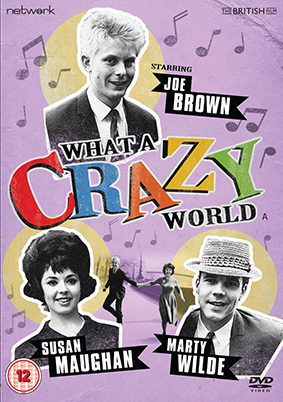 What a Crazy World (1963)
Set against the background of London's East End is the story of Alf Hitchins, an unemployed lad whose life revolves around dance halls, amusement arcades and cafés – any place to escape from the family home, where his father, mother and sister are deeply preoccupied with dog racing, bingo, and courting respectively. Alf's cynical but cheerful acceptance of life expresses itself in the song he casually composes one night – and the results take everyone by surprise.
Joe Brown (Three Hats for Lisa) stars as a likable young dreamer who finds himself with a hit on his hands in this wonderfully endearing musical drama of 1963, and features songs from the likes of Freddie and the Dreamers.
Extra features:
Original theatrical trailer
Image gallery
Instant play facility