Detective Sam Cross (Charity Wakefield – Sense & Sensibility, Mockingbird Lane, The Raven) never got the chance for revenge. Twenty years ago, her sister became the last victim of serial child killer Edward Jansen, moments before he was shot dead by a police SWAT team.
But now, decades later, he's back…
Luke Denham (Danny Horn – Dr Who) is a normal guy living a normal life until he wakes up one morning to find a mutilated corpse in his bathroom. When the police find Jansen's DNA all over the crime scene, Luke and Sam are thrown together on a mission to uncover the truth and stop the long-dead psychopath who stalks and taunts them. Scar Tissue is a shocking, gripping and stylish thriller from director Scott Michell (The Innocent Sleep) and producer Michael Riley (The Seasoning House, Vampire Diary) that reminds us how the past can be impossible to escape – evil leaves its mark.
A Sterling Pictures production, the film also stars Shaun Dingwall (Dr Who, Rock & Chips), Helen George (Call The Midwife), Tom Rosenthal (Friday Night Dinner, Plebs) and screen legend Kenneth Colley (most famous for playing Admiral Piett in the original Star Wars trilogy and Jesus in Monty Python's Life of Brian). Original music is composed by Mark Ayres, famous for his work on Dr Who in classic era of the 80s, and more recently as part of the reformed BBC Radiophonic Workshop.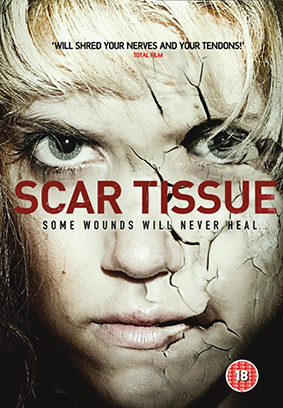 Scar Tissue will be released by Warwick Films in UK cinemas on 25th July 2014, and on UK DVD and on demand on 4th August 2014. The DVD price is £9.99.
Extra features on DVD will be:
Making-of featurette

Trailer