Allan Moyle's 1980 cult feature Times Square is a paean to teenage rebellion, telling the story of two girls who meet in a New York psychiatric unit and, bonding through a shared sense of alienation, go on the run together – in spectacular fashion.
Volatile, streetwise Nicky is an aspiring rocker, while Pamela is a timid, isolated girl whose wealthy father is currently campaigning to clean up the city's famous square. Johnny DeGuardia (Tim Curry) is the sympathetic late-night DJ who promotes their newly formed punk outfit 'The Sleez Sisters'.
In addition to gloriously gritty scenes of early '80s New York, the film also boasts a now-legendary rock 'n' roll soundtrack featuring songs by The Ramones, Lou Reed, Patti Smith, The Cure, Talking Heads and others alongside specially composed numbers including XTC rarity 'Take This Town', and Flowers of the City, co-written by ex-New York Doll David Johansen and presented in a brand-new digital transfer.
Times Square explores themes revisited in Moyles' Pump Up the Volume a decade later, and allusions to lesbian love have ensured repeat screenings at LGBT film festivals worldwide.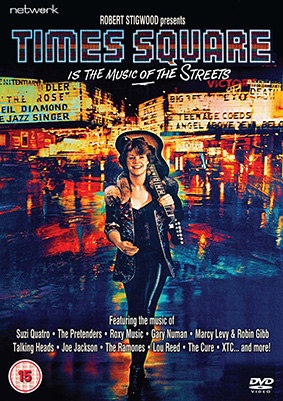 Described by Time Out as "Socially irresponsible and refreshingly optimistic: a Wizard of Oz for the '80s," Times Square will be released on UK DVD on 14th July 2014 by Network Distributing at the RRP of £9.99.
Extra features are: