It sounds like a Daily Mail headline or an unadventurously titled porn film, but Masters of Sex, which premiered on premium US cable and satellite channel Showtime (whose hit shows include Dexter, Homeland and Nurse Jackie), has attractive widespread praise and was nominated for two Golden Globes this year, one for Best Television Series – Drama, the other for Best Performance by an Actor in a Television Series – Drama. Maybe you caught it on its Channel 4 screening. Not being big on TV watching, I missed it, but have since put that right. It's an involving and impeccably acted series boasting two excellent central performances. Not caught it yet? Intrigued? Good.
Masters of Sex stars Golden Globe and BAFTA Award nominee Michael Sheen (Frost/Nixon, Midnight in Paris, The Twilight Saga) and acclaimed actress Lizzy Caplan (Mean Girls, Cloverfield, TV's New Girl), who portray the real-life pioneers of the science of human sexuality, Dr. William Masters and Virginia Johnson.
The series chronicles the unusual lives, romance and pop culture trajectory of Masters and Johnson and the effect their research had on the family and colleagues around them. Their study ignited a sexual revolution and took them from a Midwestern teaching hospital in St. Louis to the cover of Time magazine.
Also starring Caitlin FitzGerald (It's Complicated, Damsels In Distress), Teddy Sears (TV's American Horror Story and 666 Park Avenue) and Nicholas D'Agosto (Final Destination 5, TV's Heroes). It also guest stars two-time Golden Globe winner Beau Bridges.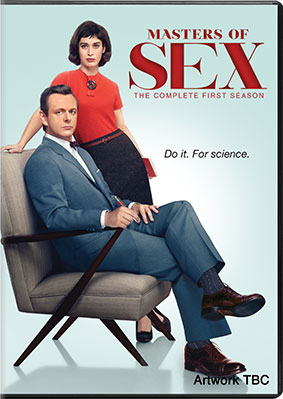 Masters of Sex – Season One will be released on UK DVD on 28th July 2014 by Sony Pictures Home Entertainment at the RRP of £29.99.
No extra features have been listed, and I can't help wondering why the series is only being released on DVD in the UK, when it has had a Blu-ray release in Australia and France. Answers on a postcard. Or a condom box...