Kevin Spacey (House of Cards, American Beauty), Sam Mendes (Skyfall) and the Bridge Project Company go on the road in NOW: In the Wings on a World Stage. Journeying across three continents and over 200 performances, this insightful documentary reveals the most intimate moments behind the scenes of their staging of Shakespeare's Richard III.
Providing a rare opportunity to see Spacey on stage, the film entwines excerpts of performance with interviews with key members of the cast and crew.
NOW chronicles both the highs and lows of the first collaboration between Spacey and Mendes since both won Oscars for their work on American Beauty.
"We became a family by sharing unforgettable moments, practicing our craft… The success of the project was beyond my highest hopes." – Kevin Spacey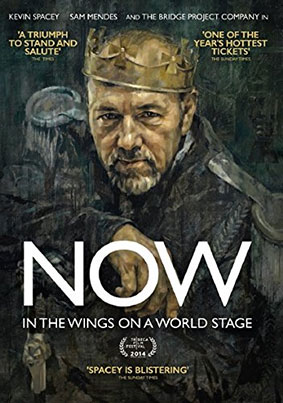 NOW: In the Wings on a World Stage will be released on UK DVD on 21st July 2014 by Kaleidoscope Entertainment at the RRP of £17.99.
If there are any extra features, then Kaleidoscope appear to be keeping them under their hat.
Find out more at: www.nowthefilm.com