After a day of auditions for the female lead in his new play, writer-director Thomas (Mathieu Amalric) hasn't found anyone suited to the role. As he is about to leave a brash, unschooled actress named Vanda (Emmanuelle Seigner) unexpectedly bursts in and Thomas reluctantly agrees to let her try out for the part. Within seconds he is stunned by her immediate transformation into a living apparition of his character. But as the likeness begins to appear to be much more than skin-deep and the extended audition builds momentum, Thomas moves from attraction to obsession...
Based on the Tony award-winning play by David Ives, Venus in Fur [La Vénus à la fourrure] is a witty, intelligent and multi-layered examination of passion, perversion and the battle of the sexes from acclaimed director Roman Polanski. It was described by Michał Oleszczyk at RogerEbert.com as "the work of a master dabbling in small pieces rather than epic ones, and putting all touches into perfect place without so much as glancing at his canvas."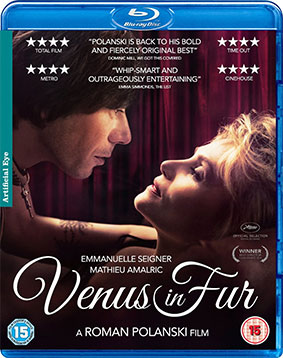 Venus in Fur will be released on UK DVD and Blu-ray on 28th July 2014 by Artificial Eye at the RRP of £15.99 for the DVD, £19.99 for the Blu-ray.
Extra features have yet to be confirmed.