Eureka! Entertainment have announced the September 2014 release of The Gang's All Here (1943), a camp classic musical directed by Busby Berkeley, one of the most influential choreographers and directors in Hollywood history. The first ever Blu-ray release of one of the most beautiful Technicolor films ever made will feature as part of their award-winning The Masters of Cinema Series.
The iconic director-choreographer Busby Berkeley's first full-length film in Technicolor is well established as being perhaps the most visually stunning spectacle of any Hollywood musical. But to focus on this risks overlooking its exuberant performances, gleeful humour, sensational music and glowing romance, amidst countless other pleasures.
A young soldier's fast-struck love affair with a New York City nightclub singer, despite his long-standing betrothal to a wealthy childhood friend, provides the catalyst for this dizzying parade of home-front melodrama, comic set-pieces and mind-boggling musical numbers (including 'The Lady in the Tutti-Frutti Hat' and 'The Polka-Dot Polka').
Featuring some of the most popular musical stars of its day, including Alice Faye, the incomparable Carmen Miranda, and the legendary Benny Goodman, along with brilliantly funny supporting turns from Edward Everett Horton, Eugene Pallette, and Charlotte Greenwood, The Gang's All Here is an outlandishly surprising classic from one of the Hollywood dream factory's most influential innovators.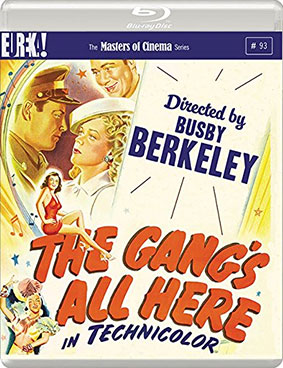 The Gang's All Here will make its Blu-ray premiere on 15th September 2014, courtesy of Eureka! Entertainment as part of the Masters of Cinema series at the RRP of £17.99.
Featuring a new high-definition 1080p presentation of the film and English subtitles for the deaf and hearing-impaired, the disc will have the following extras:
New & exclusive full-length audio commentary with critics Glenn Kenny and Farran Smith Nehme and film historian Ed Hulse

The documentary Busby Berkeley: A Journey with a Star

A deleted scene from the film

Trailer

A 36-page booklet featuring essays on the film by critics David Cairns and Karina Longworth, and more