Arrow Video has announced a limited theatrical run of the upcoming Blu-ray and DVD release Branded to Kill [Koroshi no rakuin], one of the undisputed classics of Japanese cinema. Seijun Suzuki's delirious 1967 hit-man film has drawn comparisons with contemporaries Le Samouraï and Point Blank and influenced directors such as John Woo, Jim Jarmusch and Quentin Tarantino among others.

The story of laconic yakuza Hanada, aka 'No. 3 Killer', the third rated hit-man in Japan who takes an impossible job from the mysterious, death obsessed Misako. Hanada bungles the hit and finds himself the target of his employers and a bullet ridden journey leads him to face the No. 1 Killer.

Shot in cool monochrome with beguiling visuals, Branded to Kill is an effortlessly cool crime film with a jazzy score that caused Suzuki to be fired by the studio's executives but is now rightly recognised as his masterpiece.
"Time and place are nonsense," Suzuki once famously said of his films, and some have gone as far to describe Branded to Kill as the cinematic equivalent of a 1960s Pop Art collage. The truth is that few outside of a select group of local cinéphiles and critics cared much for Branded to Kill upon its initial release in June 1967, least of all Kyûsaku Hori, the president of the Nikkatsu studio that produced it, who famously fired its director Seijun Suzuki claiming that his films didn't make sense and didn't make money.
Branded to Kill presents an extraordinary experience. Opening with the sharp crack of gunfire beneath the Nikkatsu logo before the lilting theme tune kicks in to accompany the credits, from the offset the viewer is immersed in a world that can only be described as pure cinema. Its tale of Jô Shishido's hitman, Gorô Hanada, and his attempts to rise to top-dog position in the underworld ranking of contract killers is pared down to mythic abstraction.
Branded to Kill is of a style all of its own. It operates simultaneously as a singularly nonconformist yet technically polished mood piece and as a sophisticated cinematic Rorschach that can be savoured again and again, with every further viewing revealing previously unnoticed aspects and individual meanings. Nonsense it may be, but it is intelligent, stylish and deliriously enjoyable nonsense, nonetheless.
Complementing this dual-format Blu-ray and DVD edition are a host of all-new extras, including a newly restored digital transfer and newly translated English subtitles. Alongside this, the disc will feature interviews with both director Seijun Suzuki and star Jô Shishido.
Most excitingly, the disc will include Trapped in Lust [Aiyoku no wana] (1973) – A delirious roman porno re-imagining of Branded to Kill from Atsushi Yamatoya (one of Branded to Kill's screenwriters and Suzuki's regular collaborators).
"One could fuel an entire retrospective of films whose constellation of shared staff and thematic elements feed backwards or forwards to Suzuki's iconic yet iconoclastic masterpiece of 1967, with Yamatoya's input in many of these ironically more a constant than that of the actual Branded to Kill director himself. Trapped in Lust suggests the extent to which Branded to Kill, while perhaps not such a typical work by its director as it is sometimes labelled, represents a 'Last Supper' moment, following which Suzuki and his seven Hachirô Guryû disciples (plus the crucial new figure of Genjirô Arata) went their own ways out into the wider world of Japanese cinema to cause havoc and shake it up for good."

Jasper Sharp, writer and curator specialising in Japanese cinema
Alongside this, the Blu-ray disc will also feature the original theatrical trailers for Branded to Kill and Trapped in Lust, a reversible sleeve featuring original and newly commissioned artwork by Ian MacEwan and a collector's booklet featuring new writing on the films by author Jasper Sharp, illustrated with original stills and new artwork by Ian MacEwan.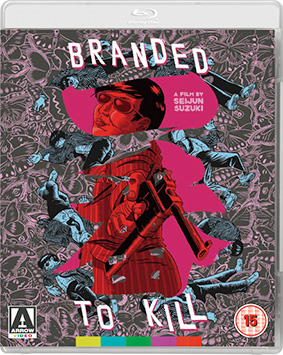 Branded to Kill will open in select cinemas across the UK on 25th July 2014 before being released in a new digital transfer on Blu-ray and DVD as a dual format edition on 28th July by Arrow Video at the RRP of £19.99.
Featuring a new High Definition digital transfer and newly translated English subtitles for both films, the disc will have the following extras:
Interview with director Seijun Suzuki

Interview with star Jo Shishido by critic and author Koshi Ueno

Trapped in Lust [Aiyoku no wana] (1973) – A delirious roman porno re-imagining of Branded to Kill from Atsushi Yamatoya, one of Branded to Kill's screenwriters and Suzuki's regular collaborators

Original Trailers for Branded to Kill and Trapped in Lust

Reversible sleeve with original and newly commissioned artwork by Ian MacEwan

Booklet by Japanese film expert Jasper Sharp, illustrated with original stills and new artwork by Ian MacEwan