Nomura is a good looking and stylish man in his early thirties who lives a successful life in Tokyo, Japan. Girls are drawn to him, something he uses to his advantage as none of them realise the sinister truth behind the clean-cut façade. He has also been leaving a legacy of violent murders that he immortalises through video clips posted on a public video website. He thrives off of the fact that millions are witnessing his work through the virally spread videos.
Thousands of miles away from him, in a whole different world, lives Bayu, a disgraced investigative journalist living in a violent and unstable Jakarta, Indonesia. As Bayu's life is hit by the nadir of failures, Nomura's videos trigger his dark side as he starts to record his own brand of "justified" killings. Nomura's seemingly confident and controlled charm starts to peel when his ego is wounded by the fact that Bayu's videos have reached a significant numbers of followers that could rival his own.
Complicating matters further is Nomura's bizarre attraction towards a traumatised young florist Hisae. Bayu himself starts to sink deeper into a spiral of violence; obsessed with bringing down one of the country's biggest and most corrupt politicians, but during his bloody rampage he doesn't realise the repercussions towards his young daughter, Elly.
When the rivalry between Nomura and Bayu becomes an uncontrollable psychosis, the two of them must finally face each other.
Co-sxecutive produced by Gareth Evans, the acclaime director of Marantau, The Raid and the even more dynamic The Raid 2, Killers was directed by Kimo Stamboel and Timo Tjahjanto, known jointly as 'The Mo Brothers', who previously did rather well with the 2009 Macabre. It stars Oka Antara (VHS2, The Raid 2) and Kazuki Kitamura (Kill Bill: Vol 1, The Raid 2)
According to the press release, "Killers takes the style and quality production of The Raid and creates a psychological thriller head and shoulders above any film of its genre." That's a pretty damned bold statement, given the dark direction Korean cinema has taken the genre in recent years, but Twitch Film called it "A brilliant rumination on our violent ways," and "one of the most interesting, disturbing, and provocative takes on the world of the serial killer ever made." Ok, then you hoave our attention.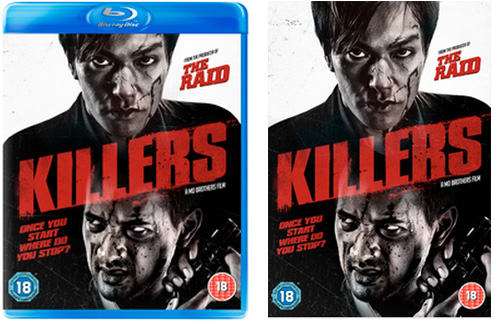 Killers will be released in UK cinemas on 18th July 2014 by Lionsgate, and on Blu-ray and DVD on 1st September 2014 by the very same people at a yet to be confirmed retail price.
We also do not yet have any details of extra features, but have tracked down a trailer, albiet one without English subtitles: