As Italy declares war on Austria at the outbreak of the First World War, Andreas is drafted to join the fight and the pair's love affair is suddenly interrupted. As the Alpine border region becomes the setting for unprecedented tragedy, neighbours become enemies, families are divided, and lovers are separated.
Andreas (William Moseley – The Chronicles of Narnia) and Francesca (Eugenia Costantini are a young couple divided by the mighty Dolomite Mountains and the violence of war in The Iron Mountain. Or is it? We know Metrodome have a habit of changing titles of lesser known films for their UK DVD release, and that's certainly happened here. But as title changes go, this is an odd one, as the original title was The Silent Mountain. Is 'Iron' a more commercially viable word than 'silent'? Well if you're talking changing Tetsuo: The Iron Man to 'Tetsuo: The Silent Man' then yes, but a Silent Mountain sound rather intriguing.
In either incarnation, it's hard to find much in the way of opinion on it yet, but according to its still slim Wikipedia page, the cast and crew were struck by lightning during the production, which alone makes it worthy of interest.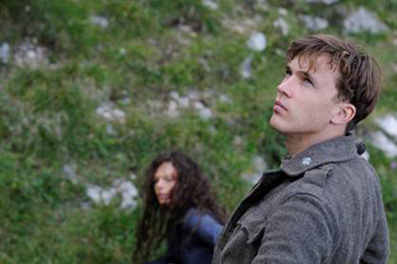 The Silent Mountain...erm, sorry, The Iron Mountain will be released on UK DVD by Metrodome Distribution on 25th August 2014 at a yet to be confirmed RRP.
No details on extra features yet. As you can see, we also don't have the cover art either.