He thought it was over. After fighting his way out of a building filled with gangsters and madmen, rookie Jakarta cop Rama thought he could resume a normal life. He couldn't have been more wrong. His triumph attracted the attention of the criminal underworld, and with his family at risk, Rama has only one choice - to go undercover and begin a new odyssey of violence.
In the follow-up to his dynamite martial arts actioner The Raid, director Gareth Evans delivers a sequel that actually manages to top the original. The Raid 2 brings all out action to the streets of Jakarta with fast paced, relentless action and a labyrinthine story of dark thrills that demands to be watched time and time again. Introducing new characters and mesmerising locations, The Raid 2 expands on the action from the first film and ramps it up to the max.
And yes, I copied that from the press release. But it is a damned fine martial arts actioner and it does up the game on Evans' own fine original. Anton Bitel summed it up nicely in his review for Grolsch Film Works with this: "Beautifully shot, compellingly choreographed, and rivetingly edited, The Raid 2 is two-and-a-half thrilling hours of genre so perfectly pure that you could bottle it, smash the bottle & thrust the broken end repeatedly into your enemy's throat."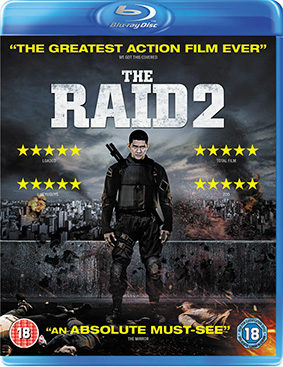 The Raid 2 will be released to download on UK Electronic Sell-Through (EST) on 4th August 2014 and Video on Demand (VOD), DVD and and Blu-ray on 11th August 2014 from Entertainment One. The DVD will be priced at £17.99, the Blu-ray at £19.99.
A Steelbook Blu-ray will be available exclusively through Entertainment Store at the RRP of £24.99.
A Double Pack of The Raid and The Raid 2 will also be available on DVD at the RRP of £19.99. A Blu-ray Double Pack of both films will be available exclusively through HMV at the RRP of £24.99.
DVD special features will be:
Feature Commentary With Director Gareth Evans

The Next Chapter: Shooting A Sequel
Blu-ray special features will be:
Feature commentary with Director Gareth Evans

The Next Chapter: Shooting a Sequel

Deleted Scene – Gang War

Cinefamily Foundation Q&A with Gareth Evans, Iko Uwais and Joe Trapanese

Violent Ballet: Behind the Choreography

UK Exclusive Q&A with Gareth Evans, Iko Uwais and Yayan Ruhian (UK exclusive)