The award-winning thriller Tom at the Farm [Tom à la ferme], from Quebecois actor-director Xavier Dolan (Heartbeats, Laurence Anyways), follows Tom, a young ad executive who travels to the country for a funeral and discovers that no one there knows his name or his relationship with the deceased.
Set in Quebec's rural panorama, this taut psychological thriller centres on the ever-growing gap between city and country and the often oppositional nature of men who live there. Stockholm syndrome, deception, grief and secretive savageries pervade this brief and brutal pilgrimage through the warped and ugly truth. In order to protect the family's name and grieving mother, Tom now has to play the peacekeeper in a household whose obscure past bodes even greater darkness for this trip to the farm.
Tom At The Farm was in the official competition for this year's BFI London Film Festival and won the FIPRESCI award at Venice International Film Festival 2013.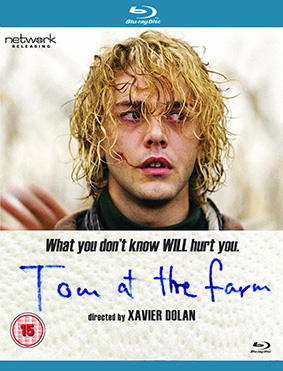 Tom At The Farm will be released on UK Blu-ray and DVD on 18th August 2014 by Network Releasing.
The only extra feature listed is a theatrical trailer.
Prices are:
£12.99 for the DVD
£14.99 for the Blu-ray
£13.99 to buy on iTunes in HD, £4.49 to rent
£9.99 to buy on iTunes in SD, £3.49 to rent
£4 to rent in HD on Curzon Home Cinema