On the eve of the Spanish Civil War, a group of children who are insensitive to pain are locked up in a hospital deep in the Pyrenees. In the present time, David Martel a brilliant neurosurgeon has to find his biological parents in order to get a transplant he needs to survive. In his vital quest he awakens ghosts from his country's past and is confronted with the terrible fate of the children who feel no pain.
First shown in the UK at the 2012 London Film Festival, Spanish myster-horror Painless [Insensibles] is the feature film debut of director Juan Carlos Medina, and stars Àlex Brendemühl (The German Doctor, Me), Tómas Lemarquis (the enigmatic star of Nói albínói) and newcomer Ilias Stothart. It was written by director Medina in collaboration with Luiso Berdejo, co-writer of the [Rec] trilogy.
English language reviews are thin on the ground at present, but Anton Bitel writing in Grolsch Film Works gave it a five-star review and called it: "a breathless drama that interrogates the paradoxes of Spain's genetic and circumstantial heritage, and teases out the eternal struggle between freedom and repression, memory and oblivion."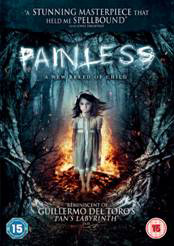 Painless will be released on UK DVD on 1st September 2014 by Metrodome Distribution at the RRP of £15.99.
As is often the way, no extra features have been announced.