Network seem to be attempting to set a record for the number of DVD titles they can release in a month as they continue to announce details for discs to be issued in August as part of 'The British Film' collection.
The titles in the latest batch are: Duel in the Jungle, Three Sisters and Sunstruck. All three titles will be released on 4th August 2014 at the RRP of £9.99 apiece.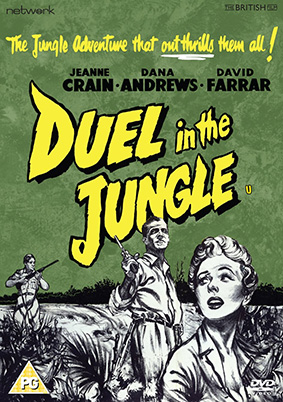 Duel in the Jungle (1954)
American insurance investigator Scott Walters is in London to check up on Perry Henderson, head of a major diamond concern, who is insured for a large sum of money, only to find that Perry is now in Africa, diving for diamonds on the sea bed; some time later comes news that Perry has drowned. Scott hurries round to see Perry's fiancée, but finds she has vanished. Playing a hunch, he flies out to Africa, which leads him, eventually, to a very-much-alive Perry, who boasts of the way he is defrauding the insurance company.
An exotic, action-filled adventure that boasts a truly outstanding transatlantic cast: Dana Andrews (Laura, Night of the Demon, The Best Years of Our Lives) – one of Hollywood's most sought-after stars – is the intrepid insurance investigator on the trail of a high-profile diamond broker who has vanished in southern Africa; Oscar nominee Jeanne Crain – Andrews' co-star in State Fair – is the woman who shares his heart-stopping quest, and Black Narcissus star David Farrar his dangerously elusive quarry.
Special features:
Original theatrical trailer
Image gallery
Original promotional PDF
Instant play facility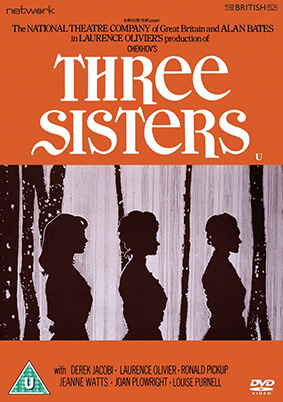 Three Sisters (1970)
The action takes place in a Russian provincial town at the turn of the century. It tells the story of Olga, Masha and Irina – daughters of a dead general, who with their brother Andrei live out their days bound together by feelings of melancholy, endless yearning and disappointment. The themes of troubled, unrequited love, provincial boredom and the imagined glamour of the capital to which the sisters long to return are brilliantly conveyed in outstanding performances by some of the 20th century's greatest theatrical players.
Directed by Laurence Olivier and John Sichel and featuring a specially commissioned score by composer William Walton, this filmed production of Anton Chekhov's classic play by London's world-renowned National Theatre Company is featured here in a brand-new transfer from the original film elements, in its as-exhibited theatrical aspect ratio.
It stars Jeanne Watts, Joan Plowright, Louise Purnell, Derek Jacobi, Laurence Olivier and Alan Bates.
Special features:
Image gallery
Promotional material PDF
Instant play facility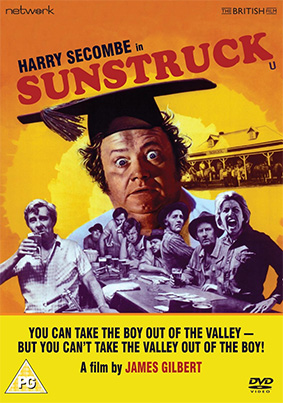 Sunstruck (1972)
Anticipating a Bondi Beach lifestyle, Stanley Evans arrives in Kookaburra Springs to find a town with two buildings: an old pub and the ramshackle schoolhouse. Despite the fact that the kids do everything in their power to get rid of him – no schoolmaster means no school! – Stanley stays, and eventually finds a way to win them over.
THIS light-hearted, enjoyable family drama stars BAFTA-winning Harry Secombe (Davy, The Magnificent Seven Deadly Sins) as a Welsh schoolteacher and choirmaster who emigrates to Australia to 'teach in the sun' – but finds reality falls somewhat short of the blissful image on the recruiting poster.
Filmed in central New South Wales, directed by TV comedy stalwart James Gilbert (Whatever Happened To The Likely Lads?, The Two Ronnies) and co-starring multi-award-winning Australian actor John Meillon (Crocodile Dundee, Walkabout) and veteran British character player Derek Nimmo (Oh Brother!, All Gas and Gaiters), among others, Sunstruck is presented in a brand-new transfer from the original film elements in its as-exhibited theatrical aspect ratio.
Special features:
Image gallery
Instant play facility