To coincide with their mammoth October to December season of science fiction films, Sci-Fi: Days of Fear and Wonder, the BFI have announced the October release of nine additions to their BFI Classics range of books. Each volume in this set of special edition BFI Film Classics interprets and celebrates a landmark in science fiction cinema. Renowned authors such as Kim Newman, Paul McAuley and Mark Kermode offer arguments for the film's 'classic' status, together with a discussion of its production and reception and its place within the genre. The books are richly illustrated and feature specially commissioned designs.
All nine books will be available to buy on 31st October 2014 at the RRP of £12.99 each.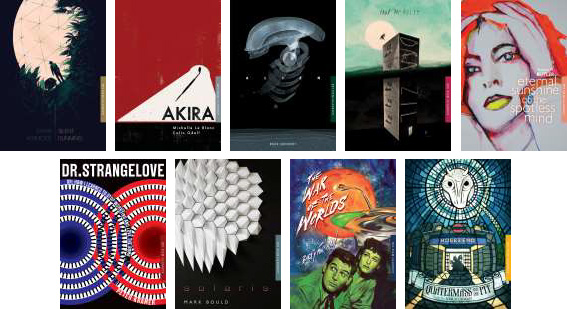 The books in question are:
Silent Running | Mark Kermode
Mark Kermode describes Silent Running (1972) as his favourite science fiction film. Here he traces Douglas Trumbull's masterpiece from its roots in the counter-culture of the sixties to its enduring appeal as a cult classic in the 21st century. It features fresh interview material with Douglas Trumbull.
Akira | Michelle Le Blanc and Colin Odell
Akira (1988) had a huge impact on the international profile of manga and anime. Closely analysing the film and its key themes, Michelle Le Blanc and Colin Odell assess its historical importance, its impact on the Western perception of anime, and its influence on science fiction cinema.
Akira features the winning jacket design from a competition run by BFI Publishing in association with Sight & Sound magazine. For more information please visit this link.
Alien | Roger Luckhurst
A legendary fusion of science fiction and horror, Alien (1979) is one of the most enduring modern myths of cinema. Roger Luckhurst examines its origins as a monster movie script through to its sequels, prequels and elaborations.
Brazil | Paul McAuley
Focusing on Terry Gilliam's dystopian satire Brazil (1985), award-winning science fiction novelist Paul McAuley analyses the production, narrative and critical reception. He also examines its relationship to other dystopian visions of the future such as Orwell's Nineteen Eighty-Four.
Dr Strangelove or: How I learned to Stop Worrying and Love the Bomb | Peter Krämer
Stanley Kubrick's Dr. Strangelove (1964) has long been recognised as one of the key artistic expressions of the nuclear age. Peter Krämer's study combines a scene-by-scene analysis with new research in the Stanley Kubrick Archive.
Eternal Sunshine of the Spotless Mind | Andrew M. Butler
Michel Gondry's Eternal Sunshine of the Spotless Mind (2004) was both a critical and commercial success on its release. Andrew M. Butler delves into the film's central themes and production processes, including its debt to Philip K. Dick.
Quatermass and the Pit | Kim Newman
Quatermass and the Pit was the original British science fiction super-saga in both film and television. Kim Newman focuses on Roy Ward Baker's 1967 film written by creator Nigel Kneale for Hammer Films, but also looks at the origins of the Quatermass franchise in 1950s BBC serials and earlier films.
Solaris | Mark Bould
In this exploration of Andrei Tarovsky's Solaris (1972), Mark Bould considers Tarkovsky not as a transcendent artist but as a filmmaker working within a genre. He situates Solaris within the Russian and global cultures of the fantastic, to which Tarkovsky contributed three major science fiction films.
The War of the Worlds | Barry Forshaw
The War of the Worlds (1952) was one of a few high-prestige science fiction productions in a lowbudget era, and initiated modern cinema's reliance on screen-filling special effects. Barry Forshaw this key science fiction film of the 1950s, exploring its literary origins and numerous film progeny.