From Cannes award-winning director Amat Escalante (Los bastardos, Sangre) comes controversial drama Heli, the story of an older brother who struggles to protect his family from Mexico's drugs and violence culture.
In his third film exploring modern Mexican society, Amat Escalante looks unflinchingly at the country's escalating drug wars and their devastating impact on one fictional family. Heli is uncompromising and graphic in its depiction of the sadistic violence, corruption and climate of fear in which the region's people must go about their daily lives. Stark, shocking and beautifully photographed, this powerfully affecting film has received worldwide critical acclaim.
Heli lives a simple existence in a small house with his father, wife, baby son and 12 year old sister, Estela. When Estela's boyfriend, a young cadet, seeks to change their lives by stealing confiscated cocaine, Heli and his family are caught up in the murderous world of Mexico's drug cartels and the corrupt police they control.
Amat Escalante won 'Best Director' at Cannes Film Festival 2013 for Heli. Other accolades include 'Jury Prize For Best Film' at Lima Film Festival, the Arri Award for 'Best Foreign Film' at Munich Film Fest, and the Louve d'or for 'Best Feature Film' in the International Competition at Festival du Nouveau Cinema.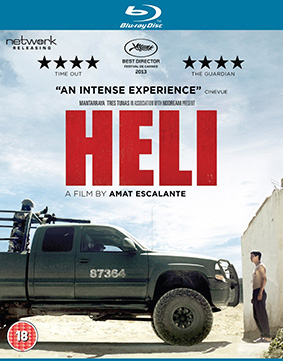 Heli will be available to own from 25 August 2014 on DVD (RRP £12.99), and Blu-ray (RRP £14.99) from Network Releasing.
It will available through iTunes (HD £13.99 to own, £4.49 to rent / SD £9.99 to own, £3.49 to rent) and Curzon Home Cinema (£4 to rent), also courtesy of Network Releasing.
Special features on the disc versions include:
The Making of Heli –- Made by director Amat Escalante's brother Martín Escalante, this is a beautifully constructed behind the scenes look at the making of Heli. With on-set footage and interviews with cast and crew it offers a unique insight into this intense and affecting film.

Q&A with director Amat Escalante

Original theatrical trailer