In September, Arrow Academy invites you to rediscover the amazing work of painter, sculptor and filmmaker Walerian Borowczyk (1923-2006) with the first major UK retrospective celebrating his prolific body of work, focusing on his artwork, short films, pioneering animations and live-action features, many of which have been rarely seen or previously unseen on video in the UK.
Arrow Academy's ground-breaking Camera Obscura: The Walerian Borowczyk Collection brings together key films from the artist's twenty five year period stretching from 1959 through to 1984. This unique release includes five of Borowczyk's provocative feature films: The Theatre of Mr and Mrs Kabal, Goto, Isle of Love, Blanche, Immoral Tales and The Beast as well as his shorts and animation.
Though the box set is sold out, each of these films is available individually on Blu-ray and DVD for the first time from the 8th September, in a new digital high definition restoration supervised by leading expert James White and approved by the director's widow, Ligia Borowczyk. In addition to exclusive documentaries featuring cast and crew, the full collection includes an hour long portrait of Borowczyk, featuring the director's musings on painting, animation and sex.
Arrow Films have overseen the extensive restoration on Camera Obscura: The Walerian Borowczyk Collection. Not only will many of these films available on Blu-ray and DVD for the first time, but accompanying this seminal release will be exclusive documentaries, a book edited by Daniel Bird and Michael Brooke featuring newly commissioned essays on Borowczyk's films and art, as well as an account of the meticulous restoration process involved plus for the first time, an English translation of Borowczyk's 1992 collection of short stories, Anatomy of the Devil, translated by the director's assistant, Michael Levy.
Daniel Bird producer of the new restorations said:
"The process of researching and restoring these films has been decades in the making and a real labour of love for me. Thanks to Ligia Borowczyk, Arrow Films as well as everybody who took part in the Kickstarter campaign to restore Goto, Isle of Love and the remaining French short films, we are now finally in a position to rediscover Borowczyk's work and re-evaluate his contribution to film history."
The Walerian Borowczyk Collection and each individual release is a vital addition to anyone interested in world cinema, animation or experimental film.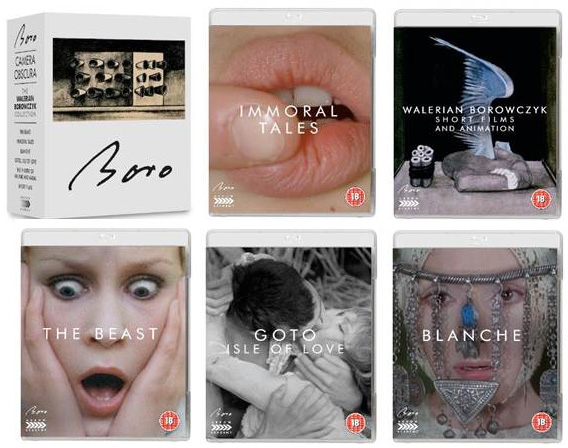 The keenly anticipated Camera Obscura: The Walerian Borowczyk Collection will be released on UK Blu-ray on 8th September 2014 by Arrow Fiulms as part of the Arrow Academy label at a yet to be confirmed RRP.
This super-deluxe package will be full of special features and bonus material including:
Brand new 2K restorations of Borowczyk films

High Definition Blu-ray (1080p) and Standard Definition DVD presentation of the films and extras

The Short Films & Theatre of Mr and Mrs Kabal
Introduction by filmmaker Terry Gilliam

Film is not a Sausage: Borowczyk's Short Films – A new interview programme featuring Borowczyk, producer Dominique Duvergé-Ségrétin, assistant André Heinrich and composer Bernard Parmegiani

Blow Ups – A new visual essay by Daniel Bird concerning Borowczyk's works on paper

Borowczyk's commercials

Goto, Isle of Love
Introduction by artist and Turner Prize nominee Craigie Horsfield

The Concentration Universe: Goto, Isle of Love – A new interview programme featuring actor Jean-Pierre Andréani, cameraman Noël Véry and camera assistant Jean-Pierre Platel

The Profligate Door – A new documentary about Borowczyk's sound sculptures featuring curator Maurice Corbet

Original theatrical trailer
Blanche
Introduction by director Leslie Megahey

Ballad of Imprisonment: Blanche – A new interview programme featuring producer Dominique Duvergé-Ségrétin, assistant director André Heinrich, camera operator Noël Véry and assistant Patrice Leconte

Obscure Pleasures: A Portrait of Walerian Borowczyk – A newly edited archival interview in which Borowczyk discusses painting, cinema and sex

Gun Point – A documentary short by Peter Graham produced and edited by Borowczyk

Original theatrical trailer

Immoral Tales
Introduction by Borowczyk expert Daniel Bird

Immoral Tales: L'Age d'Or Cut – featuring a fifth episode, The True Story of the Beast of Gévaudan

Love Reveals Itself: Immoral Tales – A new interview programme featuring production manager Dominique Duvergé-Ségrétin and cinematographer Noël Véry

Boro Brunch: A reunion meal recorded in February 2014 re-uniting members of Borowczyk's crew, featuring Philippe D'Argila, Florence Dauman, Dominique Duvergé-Ségrétin, Dominique Ruspoli, Noël Véry and Zoe Zurstrassen

A Private Collection

A Private Collection: Oberhausen Cut

Original theatrical trailer

The Beast
Introduction by critic Peter Bradshaw

The Making of The Beast: Camera operator Noël Véry provides a commentary on footage shot during the making of The Beast

Frenzy of Ecstasy – A new visual essay on the evolution of Borowczyk's beast and the sequel that never was, Motherhood

Venus on the Half Shell

Original theatrical trailer