Mark Strong (Our Friends in the North, The Long Firm, The Guard) in his first leading role in a feature film, plays John, a mind detective paid to enter people's memories and uncover the reality behind their alleged crimes. But what will he make of his new assignment, the brilliant but troubled teenager Anna? Played with effortless panache by one of America's more notable upcoming talents – American Horror Story's Taissa Farmiga.
As John enters her mind and becomes more involved in her sometimes brutal memories, he must decide if she is indeed the victim of unspeakable trauma or a very clever and manipulative sociopath. Produced by Jaume Collet-Serra (Orphan, Unknown, Non-Stop), Mindscape is a suspenseful horror with an intriguing twist.
Retitled Anna in some territories Mindscape is the feature debut of by Spanish director Jorge Dorado, whose second and third assistant director apprenticeship included The Devil's Backbone for Guillermo del Toro and Talk to Her for Pedro Almodóvar. Its largely British cast includes Brian Cox (Manhunter, Troy), Noah Taylor (Submarine, Game of Thrones), Saskia Reeves (Luther, Close My Eyes) and Jessica Barden (Coronation Street, Hanna).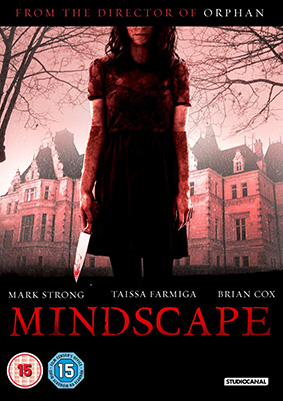 Mindscape will be released on UK DVD on 25th August 2014 by StudioCanal at the RRP of £15.99. The film will also be available on digital download.
No extra features have been announced.