One of the more disturbing products of the Australian film industry in recent years, the 2005 survival horror Wolf Creek was a film that got seriously under the skin of a good many genre fans, us included. It launched the career of director Greg Mclean, who lightened the tone a little for his second feature, the immensely enjoyable 2007 giant croc movie Rogue. Then in 2013 he returned to his feature roots and directed a sequel, Wolf Creek 2. If you've not seen the first film (and you rather fancy doing so – keep strong drink handy) then you might want to skip the somewhat gleeful synopsis provided by the PR people below.
Mick Taylor (John Jarratt) is back on the hunt and it's not wild pigs or crocs that he's after. Out for the kill, this outback psychopath continues to add to his staggering body count as he mutilates, dismembers and tortures anyone and everyone he lays his eyes upon. When two young backpackers venture into the wilderness, they soon find themselves face to face with evil, begging for their lives and bringing a wake of death and gory destruction with them as they attempt to flee. Armed with his trusty knife, sniper rifle and unquenchable thirst for murder, Mick butchers and crashes his way through the wasteland, loving every bloody moment of the violent carnage.
Whether Wolf Creek 2 maintains the genuine horror of the original or crosses the line into torture porn territory has been the subject of debate and disagreement amongst critics, although Quiet Earth have suggested that it is "not only a great horror movie, it's also a fantastic chase movie and a relationship drama all rolled into one." We hope to bring our own reviewer's take on it soon.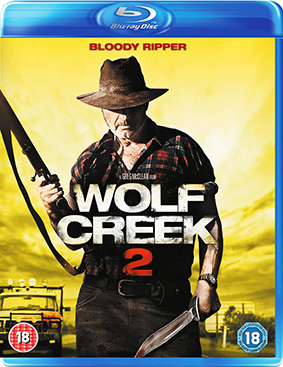 Wolf Creek 2 will be released on UK DVD and Blu-ray by Entertainment One on 15th September 2014 at the RRP of £15.99 for the DVD and £17.99 for the Blu-ray.
No extra features have been listed. Really?