It's 1962. A glamorous American couple, the charismatic Chester MacFarland and his alluring younger wife Collette, are in Athens during a European vacation. While sightseeing at the Acropolis they encounter Rydal, a young, Greek-speaking American who is working as a tour guide. Drawn to Colette's beauty and impressed by Chester's wealth and sophistication, Rydal gladly accepts their invitation to dinner.
However, all is not as it seems with the MacFarlands, Chester's affable exterior hides darker secrets. As events take a sinister turn, Rydal finds himself compromised and entangled as an accomplice to a crime committed by Chester. Their journey takes them from Greece to Turkey, and to a dramatic finale played out in the back alleys of Istanbul's Grand Bazaar.
The Two Faces Of January is a suspense thriller starring Academy Award nominee Viggo Mortensen (The Lord Of The Rings, The Road, A History Of Violence), Golden Globe nominee and Cannes Best Actress winner Kirsten Dunst (Spider-Man, Melancholia, Marie-Antoinette) and Oscar Isaac (Drive, The Bourne Legacy, Inside Llewyn Davis). It is based on the novel of the same name by Patricia Highsmith (The Talented Mr. Ripley) and adapted by Academy Award nominee Hossein Amini (Drive, Snow White And The Huntsman – he also adapted the horrid American remake of 47 Ronin, but we'll let that slide).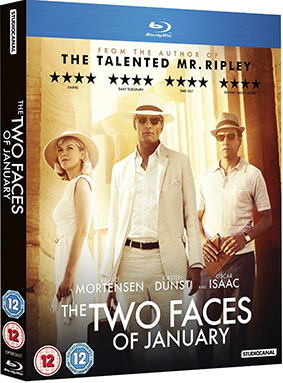 The Two Faces of January will be released on UK DVD, Blu-ray and Video on Demand on 8th September 2014 by StudioCanal at the RRP of £19.99 for the DVD and £24.99 for the Blu-ray. Prices for the VOD version have yet to be confirmed.
Extra features, at least on the disc editions, will include:
Twist & Thriller featurette

Shooting the Odyssey featurette

Travelling in Style featurette

Interviews with director Hossein Amini, actors Viggo Mortensen, Oscar Issac & Kirsten Dunst

Deleted scenes

Bloopers