Network Distributing have announced four more title for UK DVD release as part of their ongoing 'The British Film' collection: The Birthday Present, a BAFTA nominated drama starring Tony Britton and Sylvia Sims; Baxter!, a sympathetic story about an unloved boy trying to overcome a speech problem; The Kitchen, a comedy set in a restaurant kitchen from Oscar-winning director James Hill; and Two Left Feet a comedy about a young man looking for experience in the bedroom department, starring Michael Crawford.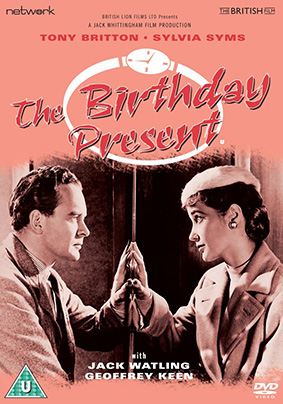 The Birthday Present (1957)
Returning from a business trip, toy salesman Simon Scott is caught attempting to smuggle a wristwatch – bought for his wife's birthday – through customs. He is arrested and, due to a bungling defence by his solicitor, obliged to serve a three-month prison sentence. It is only the beginning of his woes; his employer is understanding but is ultimately forced to sack Simon, who discovers that finding another job under such circumstances is extremely difficult.
Tony Britton, Sylvia Syms and Geoffrey Keen star in this BAFTA-nominated drama focusing on a man whose life is turned upside down by the far-reaching repercussions of an ill-judged action. The Birthday Present (U) is presented here in a brand-new transfer from the original film elements and will be released on UK DVD on 1st September 2014 courtesy of Network Distributing at the RRP of £9.99.
Special features:
Image gallery
Promotional material PDF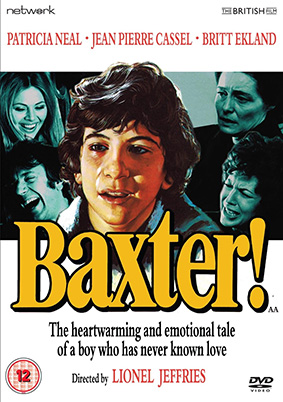 Baxter! (1973)
Roger Baxter is a 12-year-old American lad, engaging, warm and sensitive, who has never seen, felt or known love. His parents have always been too preoccupied with their own failures to recognise his needs. Then the marriage breaks up and, after the divorce, the boy's mother – a stupid rather than an evil person – brings him to London, hoping to make a fresh start. And it is here, for the first time, that Roger comes into contact with love; three kinds of love that are to make him even more aware of his unhappiness and frustration.
Sympathetic, moving, but never sentimental, Baxter! features accomplished performances from Patricia Neal (Breakfast At Tiffany's, The Day The Earth Stood Still), Britt Ekland (The Wicker Man, Get Carter), Sally Thompsett (Straw Dogs, The Railway Children) and Scott Jacoby (One Life To Live, Bad Ronald) as the film's young protagonist. The film was helmed by favourite character actor turned director Lionel Jeffries, whose two preceding films in the director's chair were perennial favourites The Railway Children and The Amazing Mr. Blunden.
Baxter! (12) will be available to own on DVD from 1st September 2014 by Network Distributing at the RRP £9.99, courtesy of Network Distributing's 'The British Film' collection.
Special features:
Original theatrical trailer
Image gallery
Promotional material PDF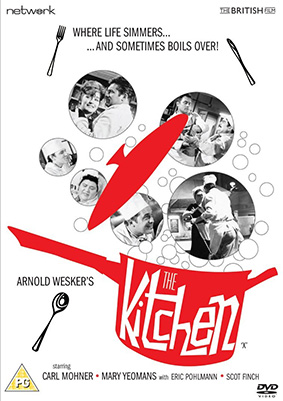 The Kitchen (1961)
In the business end of a kitchen a polyglot staff strives to cope with a superhuman task. The kitchen looms around and encloses them all; it is a microcosm of the world. The pressure of the day becomes unendurable, and when Peter the German cook realises that waitress Monica does not mean to divorce her husband his grief and pain cause him to run berserk.
THE combustible setting of a busy restaurant kitchen provides much drama and humour in this 1961 feature film directed by Oscar-winner James Hill (Born Free) and adapted from Arnold Wesker's celebrated play. Featuring outstanding performances by Carl Mohner, Tom Bell and Eric Pohlmann – among many others – The Kitchen (PG) will be released on 1st September 2014 by Network Distributing at the RRP of £9.99.
Special features:
Promotional material PDF
Image gallery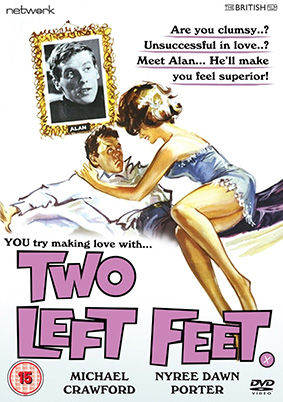 Two Left Feet (1963)
Alan Crabbe is 19 – and as gauche as they come. Every time he tries a manful stride into the jungle of sex, his two left feet turn the attempt into a trip-and-stumble. But then he meets Eileen, the new waitress in the corner café, who signals unmistakable messages at Alan with her large, inviting eyes
Michael Crawford (Condorman, Some Mothers Do 'Ave 'Em) stars as a luckless, inexperienced youth desperate to break out of a sexual catch-22 in this effervescent, sharply observed comedy from Roy Ward Baker (A Night to Remember, Quatermass and the Pit). The film also stars Nyree Dawn Poter (The Forsyte Saga, The Protectors), Julia Foster (Alfie, The Loneliness of the Long Distance Runner), David Hemmings (Blow Up, Deep Red) and Bernard Lee ('M' from the original James Bond films)
Two Left Feet (15) is available to own on DVD from 1st September 2014 from Network Distributing at the RRP of £9.99.
Special features:
Image gallery
Promotional material PDF