Arrow Video announced the release of The 'Burbs, one of the most hotly anticipated Arrow Video Blu-ray titles of the year. Joe Dante's iconic cult classic will be released on 15th September as both a deluxe Blu-ray & also as a limited edition SteelBook featuring an updated version of the original iconic artwork.
One of Dante's most accomplished and often-overlooked entries in a canon filled with tone-shifting black comedies and satirical horror hybrids. The 'Burbs was released in 1989 and starred Tom Hanks in one of his last tour de force comedic roles before becoming a decidedly more "serious" actor.
Though The 'Burbs may not seem to fit into Dante's oeuvre at first glance, it indeed does bear all the fingerprints of the director's slightly off-kilter sensibilities, equally influenced by Mad magazine and a cadre of classic Universal monsters. In fact, The 'Burbs is one of those rare instances in Hollywood where the material is perfectly matched with a director who understands the interdependence of horror and comedy. As he did with Piranha, The Howling and Gremlins before, Dante instinctively knew that humour would help ground the horror and make it all the more realistic and credible. "I always thought all horror is comedy," Dante said in 2011 and indeed there has always been a fine line between horror and comedy in all of Dante's films.
That line is never more blurred than in The 'Burbs, which – along with Dante's 1985 sci-fi film Explorers – has gone on to gain a level of cult status since its release. Noted critic and staunch Dante champion Jonathan Rosenbaum, who appreciated the film's dark humour, cited in his review that The 'Burbs "can be read as a satire about suburban conformists and snoops – xenophobic busybodies who can't tolerate the presence of any sort of eccentricity in their midst. Or the movie is a cautionary tale about the dangers of insulation and ignorance - minding one's own business and being unaware of the horrible things that are happening right next door. Or, finally, one can take the noncommittal stance assumed by the teenage characters in the movie, who are as undisturbed about the mysterious neighbours as they are amused by the xenophobic snoops trying to uncover them; the kids are simply around to enjoy the show."
Family man Ray Peterson (Tom Hanks) is looking forward to a week of putting his feet up at home in the quiet, leafy cul-de-sac of Mayfield Place. But his plans are scuppered by the arrival of new next-door neighbours, The Klopeks, whose behaviour and habits are more than just a little kooky. But things go from kooky to downright sinister when local old boy Walter disappears, leading Ray and his buddies to suspect their new neighbours of killing and eating him! Sure, the Klopeks are a strange bunch what with their digging up the backyard in the middle of the night – but they're not devil-worshipping cannibal killers… are they?
On paper, the plot for The 'Burbs doesn't really do the film justice, since it's a blended mixture of plot, performance and, ultimately, Dante's persistent point-of-view that make it all work. On repeat viewings, however, it becomes clear that the signature touches of Dante's directorial style are what transform The 'Burbs from a typical situational comedy into a dark cult classic. Those tell-tale sight gags, in-jokes and "doodlings in the margins" like the cartoons of artist Sergio Aragonés that Dante so loved in the pages of Mad magazine are peppered throughout The 'Burbs. "The beauty of Mad magazine was that you could read it over and over and in the corner of the frame would be these little gags that you hadn't noticed when you were reading it for the continuity," Dante said.
"The audience is reminded constantly that they are watching a movie, and similar comic stylings have found their way into my own work," Dante once told The Telegraph.
There's no denying The 'Burbs is a manufactured movie as it unfolds on the screen... but it's a place worth revisiting if only for the non-judgmental point-of-view and understanding of human nature that Dante brings to it.
The 'Burbs is presented in its original aspect ratio of 1.85:1 with stereo 2.0 audio. The 'Burbs was exclusively restored in 2K resolution by Arrow Films for this release. This restoration of The 'Burbs was overseen by James White on behalf of Arrow Films and has been approved by Joe Dante.
Arrow Video's landmark release comes loaded with a bumper crop of bonus features including an all-new high definition Blu-ray (1080p) presentation of the Theatrical cut, newly-restored from the original film elements, and the original Workprint cut of the film transferred from Director Joe Dante's personal copy, on home video for the very first time, which includes deleted and alternate scenes.
The Workprint cut of the film will be complimented by A Tale of Two 'Burbs, an all-new video featurette comparing the differences between the Workprint and Theatrical cuts of the film, with optional audio commentary from Joe Dante.
Alongside this, this deluxe edition will also include a brand-new feature-length documentary There Goes the Neighbourhood: The Making of The 'Burbs which features interviews with Dante, actors Corey Feldman, Courtney Gains and Wendy Schaal, director of photography Robert M. Stevens and production designer James H. Spencer.
The disc also features a newly recorded audio commentary with writer Dana Olsen, moderated by author Calum Waddell, an alternate ending, presented in HD for the very first time, alongside the original theatrical trailer and an exclusive collector's booklet featuring new writing on the film by Kenneth J. Souza, author of Scared Silly: The Films of Joe Dante, and an article looking at the collaborations of Joe Dante and composer Jerry Goldsmith, illustrated with original archive stills and posters.
If you're looking for a knowing slice of tongue-in-cheek terror then look no further than The 'Burbs. A standout horror comedy from a director who has given us more than his fair share of fun frighteners, The 'Burbs assembles a superb cast including Tom Hanks, Bruce Dern, Carrie Fisher and Corey Feldman in a tall tale of small-town terror. You'll never look at those eccentric neighbours in the same way again! The super-deluxe package, which is available both as a standard Blu-ray and as a limited edition Blu-ray SteelBook, is full of special features and bonus material.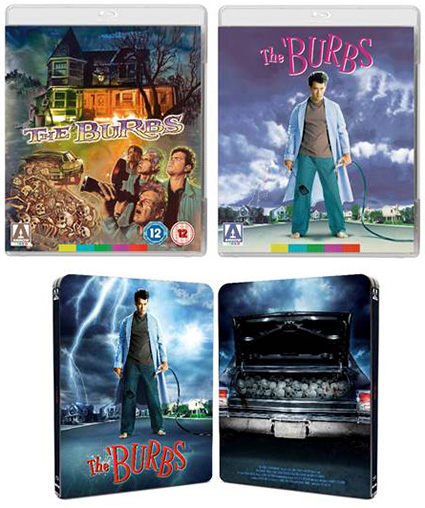 The 'Burbs will be released on UK Blu-ray on15th September 2014 by Arrow Films at the RRP of £19.99, or £24.99 for the Limited Edition Steelbook.
Special features have been confirmed as:
Isolated Music and Effects Soundtrack

New audio commentary with writer Dana Olsen, moderated by author Calum Waddell

There Goes the Neighbourhood: The Making of The 'Burbs – A new feature-length documentary including interviews with Dante, actors Corey Feldman, Courtney Gains and Wendy Schaal, director of photography Robert M. Stevens and production designer James H. Spencer

The original Workprint cut of the film transferred from Director Joe Dante's personal copy, on home video for the very first time – includes deleted and alternate scenes!

A Tale of Two 'Burbs – Video featurette comparing the differences between the Workprint and Theatrical cuts of the film, with optional audio commentary from Dante

Alternate ending, presented in HD for the very first time

Original Theatrical Trailer in HD

Collector's booklet featuring new writing on the film by Kenneth J. Souza, author of Scared Silly: The Films of Joe Dante, and an article looking at the collaborations of Joe Dante and composer Jerry Goldsmith, illustrated with original archive stills and posters