From the producers of American Pie, Cabin Fever and The Ring comes the hilarious, no-holds-barred Zombeavers. At least that's what we've been told.
Announced earlier this year at the Berlin Film Festival, it garnered over 2 million trailer views and became quite the social media and festival sensation. Zombeavers is a horror comedy with hysterical interludes, gross-out gore and old school animatronics. Making its highly anticipated UK debut at Film4 FrightFest on Thursday 21st August at the Vue West End cinema, Leicester Square, London, the UK Premiere will be the first opportunity fans will have to see the film on the big screen ahead of its home entertainment release.
The film follows a group of college students headed out into the wilderness for spring break, unaware of the danger that lurks beneath the lake. Unbeknownst to the vacationers a chemical spill has irreversibly altered the wildlife and Zombeavers are on the prowl. As a weekend of sex, drugs and debauchery gets underway, the beavers close in on their prey and the bloodthirsty beasts really do take the term 'killer weekend' to the next level.
It all sounds a bit tacky, but advanced word is rather good. Twitchfilm claimed that "Zombeavers is dam excellent" (oh, ha ha), Film School Rejects called it "Funny, smart, consistently entertaining," while Best Horror Movies claimed it is "Hilarious, from the very first frame to the last one."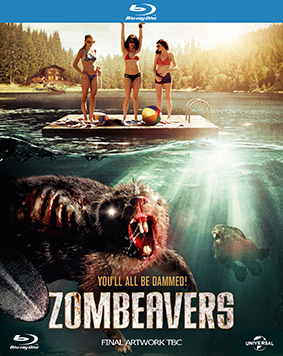 Zombeavers lands on UK DVD and Blu-ray on 20th October from – a bit of a surprise this – Universal Pictures UK, at the RRP of £12.99 for the DVD and £15.99 for the Blu-ray.
The extras seem confined to the Blu-ray edition and consist of:
Behind the scenes
Deleted scenes
It should be noted that both of these have yet to be confirmed. Oh, and the DVD comes with "3D Lenticular Packaging". OK then.
If you're up for it, here's the trailer. Favourite moment? "We cannot turn on each other right now. That is exactly what the beavers would want..."