Known to many as 'The Merchant of Death'. The Notorious Mr. Bout weaves twenty years of home movies with extensive first person narrative and high profile interviews to form a startling account of how Russian entrepreneur, Viktor Bout became one of the world's most infamous felons.
Bout was a war profiteer, an aviation magnate, an arms smuggler and strangest of all, an amateur filmmaker! Until three days prior to his 2008 arrest on charges of conspiring to kill Americans, Bout kept the camera running, documenting a life spent in the grey areas of international law.
Portrayed by Nicholas Cage in Hollywood's Lord of War, Viktor Bout can justifiably be called the world's most famous arms dealer.
With unprecedented access to Bout's home movies and DEA surveillance material gathered during the sting operation to bring him down, The Notorious Mr. Bout is a portrait of a life much mythologised but little understood. The film was directed by Tony Gerber (Full Battle Rattle) and the director of Sundance winner Pussy Riot: A Punk Prayer, Maxim Pozdorovkin.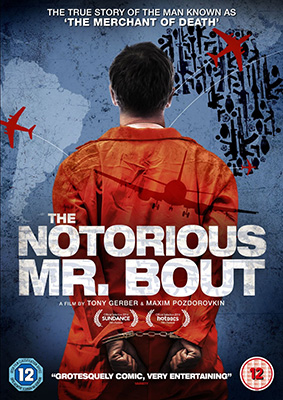 The Notorious Mr. Bout will be released on UK digital download on 7th October 2014 and UK DVD on 13th October 2014 from Kaleidoscope Home Entertainment at the RRP of £17.99.
No extra features have been listed.