Eureka! Entertainment have announced the October release of Blacula – The Complete Collection. Urban action and fatal attraction give rise to a groove from beyond the grave in this funkadelic, fangadelic Soul Cinema sensation! The eternally cool William Marshall puts a fresh spin on the age-old legend of the vampire, condemned to wander the earth with an insatiable lust for blood. Features a soundtrack from the influential conductor, composer and record producer, Gene Page, which is now considered a cult classic and collector's item to record enthusiasts.
In 1780, African Prince Mamuwalde (Marshall) pays a visit to Count Dracula in Transylvania, seeking his support in ending the slave trade. Instead, the evil count curses his noble guest and transforms him into a vampire! Released from his coffin nearly two centuries later by a pair of luckless decorators, Mamuwalde emerges as 'Blacula', one cool, dressed to kill, dude strollin' the streets of L.A. on a nightly quest for human blood and fine women!
In Scream, Blacula, Scream Blacula lives, and only the legendary Pam Grier (Jackie Brown) has the power to deep-six his reign of terror. William Marshall returns as the noble African prince turned bloodthirsty fiend in this hair-raising sequel to the terrifying hit Blacula! This time, it's voodoo power versus vampire fury when Willis (Richard Lawson), the son of the late high priestess, seeks revenge on the cultists who have chosen his foster sister Lisa (Grier) as their new leader. Hoping to curse Lisa, Willis unwittingly resurrects Blacula's earthly remains and lets loose the Prince of Darkness and his freaked-out army of the undead!
"Blacula is the most horrifying film of the decade!" – Count Dracula Society
"A surprisingly worthy addition to the blood-sucking genre." – Film 4
"William Marshall brings considerable nobility to the lead role – no mean feat when you've got patches of hair glued all over your face and keep turning into a giant bat." – SFX Magazine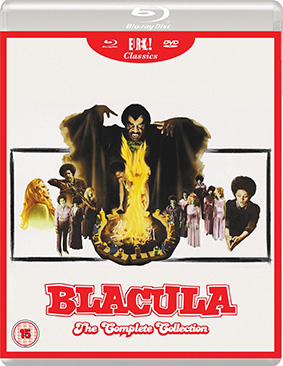 Blacula – The Complete Collection will be released on UK dual format (Blu-ray and DVD) on 27th October 2014 by Eureka! Entertainment at a very reasonable RRP of £17.99.
Featuring gorgeous new high-definition presentation with progressive encodes on the DVDs, the release will have the following extras:
New and exclusive introduction to the films by critic and author Kim Newman

Trailers for both films

A 32-page booklet with new writing by Josiah Howard, reprints of original Blacula ephemera and rare archival imagery