Having been nominated for the Palme d'Or at the 2013 Cannes Film Festival and going on to win Best Screenplay, A Touch of Sin was inspired by four shocking (and true) events.
An angry miner, enraged by the corruption of his village, decides to take justice into his own hands; a rootless migrant discovers the infinite possibilities of owning a firearm; a receptionist working at a local sauna is pushed to the limit by a wealthy client; and a young factory worker goes from one discouraging job to the next, only to face increasingly degrading circumstances.
Written and directed by master Jia Zhangke (The World, Still Life, 24 City), a man widely regarded as "one of the best and most important directors in the world" (Richard Brody, The New Yorker), this reflection on capitalist China focuses on four people, living in four different provinces, who are driven to violent ends.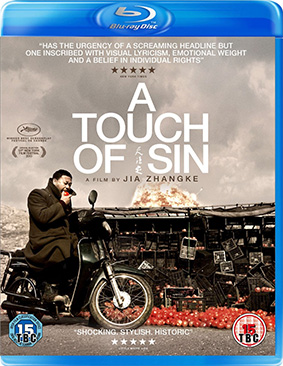 Described in The Guardian as "Stunning" and "Brash, daring and often ultraviolent," A Touch of Sin [Tian zhu ding] will be released on UK DVD and Blu-ray on 15th September 2014 by Arrow Films at the RRP of £14.99 for the DVD and £15.99 for the Blu-ray.
Unusually for Arrow, no extra features have been listed.