Arrow Video has announced the September release of the 1988 cult classic Killer Klowns from Outer Space on UK dual format (DVD and Blu-ray) and exclusive Blu-ray Steelbook. Playing colourful homage to such '50s B-movie drive-in classics as The Blob (1958) and Invasion of the Body Snatchers (1956) while providing plenty of original shocks and scares itself, Killer Klowns from Outer Space is energetic, punk and every bit as funny as it is scary.
As movie titles go, few are quite as descriptive as Killer Klowns from Outer Space, a vivid mesh of horror, sci-fi and comedy which does exactly what it says on the tin. When a troupe of aliens who happen to resemble circus clowns park their UFO (which happens to resemble a big top tent) in small-town USA, it spells trouble for the locals. As the Killer Klowns begin kidnapping the town's residents and turning them into sugary circus snacks, it's up to young Debbie Stone and Mike Tobacco to save the day. If they don't get turned into delicious cotton candy cocoons first, that is.
Clowns can be terrifying at the best of times – especially when they're Killer Klowns from Outer Space! When Mike and his girlfriend Debbie turn up at the local police station warning that a gang of homicidal alien clowns have arrived in the town of Crescent Grove, the cops are naturally sceptical. Talk of popcorn-firing guns and a spaceship shaped like a circus tent out in the woods hardly helps to convince them.
Before long, however, reports start coming in from anxious locals reporting similar run-ins with the colourfully-dressed, large shoe-wearing assailants. There can no longer be any doubt – the Killer Klowns from Outer Space are here and they're out to turn the population into candy floss!
The sole directorial effort from the Chiodo brothers – the special effects team behind such hits as Critters and Team America: World Police – Killer Klowns from Outer Space is the wacky 1988 horror comedy classic against which all other knowing B-movie efforts should be measured. So, in the words of the film's opening theme song, hop aboard the "nightmare merry-go-round" and brace yourself for a cinematic experience unparalleled in this galaxy!
This new release comes loaded with a bumper crop of bonus features including an all-new high definition (1080p) and Standard Definition DVD presentation of the feature, transferred from original film elements by MGM. Alongside this the discs will also feature an audio commentary with the Chiodo Brothers, as well as a 20 minute making of feature looking at the film's production, interviews with the makers of the film and behind-the-scenes footage.
Other extras include a tour of Chiodo Bros Productions, brand new interviews with stars Grant Cramer and Suzanne Snyder, as well as an interviews with composer John Massari, creature fabricator Dwight Roberts and visual effects supervisor Gene Warren Jr.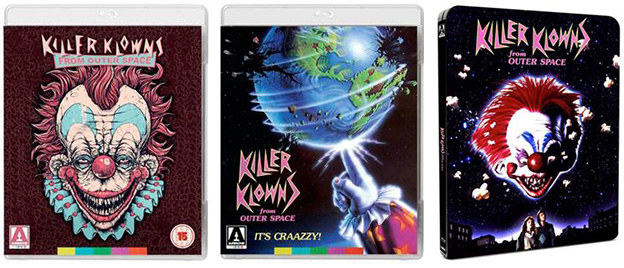 Killer Klowns From Outer Space will be released on UK DVD and Blu-ray by Arrow Films on 15th September 2014 at the RRP of £25.99 for the dual format edition and £29.99 for the exclusive Blu-ray Steelbook.
Boasting a High Definition Blu-ray (1080p) and Standard Definition DVD presentation of the feature, transferred from original film elements by MGM, the original Stereo 2.0 audio (uncompressed PCM on the Blu-ray) and optional English subtitles for the deaf and hard of hearing, release will have the following special features:
Audio Commentary with the Chiodo Brothers

The Making of Killer Klowns – a 20-minute featurette looking at the film's production, including an interview with the Chiodo Brothers alongside behind-the-scenes footage

Visual Effects with Gene Warren Jr. – an interview with Charles Chiodo and visual effects supervisor Gene Warren Jr.

Kreating Klowns – an interview with Charles Chiodo and creature fabricator Dwight Roberts

Bringing Life to These Things – A Tour of Chiodo Bros. Productions

Chiodo Brothers' Earliest Films – a look back at the Chiodo Brothers' early homemade productions

Tales of Tobacco – A brand new interview with star Grant Cramer

Debbie's Big Night – A brand new interview with star Suzanne Snyder

Komposing Klowns – interview with composer John Massari

Deleted Scenes with director's commentary

Bloopers

Klown auditions

Image gallery

Original theatrical trailer

Reversible sleeve featuring original and newly commissioned artwork by Godmachine

Collector's booklet featuring new writing on the film by Starburst critic Joel Harley, illustrated with original archive stills and posters