Network Distributing have announced the Blu-ray release of two fondly regarded Hammer titles from 1971, Twins of Evil and Countess Dracula, both as part of 'The British Film' collection.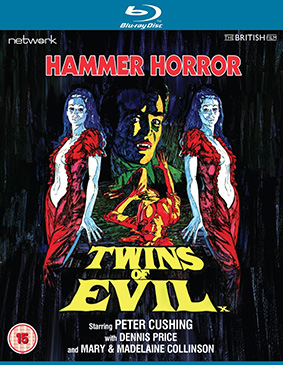 Twins of Evil
Glamorous identical orphaned twins Maria and Frieda move from Vienna to the village of Karnstein to take up a new life with their submissive aunt and grim uncle - a fanatical Puritan and leader of a witch-hunting religious sect who is determined to kill his nemesis, Count Karnstein: a devil-worshipping libertine who has been turned into a vampire.
Directed with characteristic style and energy by cult filmmaker John Hough (The Legend Of Hell House, The Watcher In The Woods) and starring horror legend Peter Cushing (Dracula, The Curse Of Frankenstein), Twins of Evil (15) combines the signature Hammer elements of supernatural horror, black humour and fabulously lurid sensuality.
Featuring an all-time classic score by Harry Robinson, Twins Of Evil also stars Kathleen Byron (Black Narcissus), Isobel Black (The Kiss of the Vampire) and Dennis Price (Kind Hearts and Coronets), with Playboy Playmates Mary and Madeleine Collinson as the twins.
Twins of Evil will be released on Blu-ray by Network Distributing on 8th September 2014 at the RRP of £14.99.
Special features:
Original theatrical trailers and TV spots
Deleted scene
Image gallery
PDF material
Commemorative booklet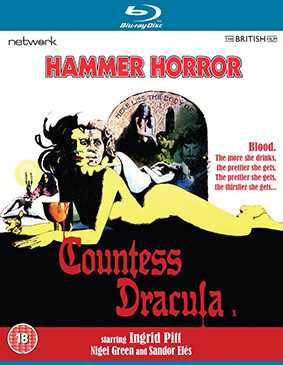 Countess Dracula
In medieval Hungary, Countess Elisabeth Nádasdy, an embittered, ageing widow, discovers by accident that virgin's blood causes her skin become youthful and smooth. Determined to retain her new youth at all costs, the Countess coerces her lover to abduct a string of young virgins to keep her supplied with the blood she now craves to stay beautiful...
One of Hammer's most enduringly popular films and a benchmark for 1970s horror, Countess Dracula stars Ingrid Pitt (The Wicker Man) in an iconic, career-defining role as the aged countess who must regularly bathe in virgins' blood to regain her fading youth. The film was based on the real life exploits of Elizabeth Báthory de Ecsed, a 17th Century countess who has been labelled history's most prolific serial killer.
Genre stalwart Peter Sasdy (Hands of the Ripper) directs arguably his best Hammer film, from a script by award-winning writer Jeremy Paul and showcasing a rousing score from composer Harry Robinson.
Countess Dracula will be released on Blu-ray by Network Distributing on 8th September 2014 at the RRP of £14.99.
Special features:
Audio commentary with Ingrid Pitt and horror experts Kim Newman and Stephen Jones
Original theatrical trailer
Archive interview with Ingrid Pitt
50 Years of Hammer - news feature
Thriller episode
Conceptions of Murder episode