Cool and charismatic English teacher Seiji Hasumi is popular with students and teachers alike. He inspires trust and respect from his class, greeting many with an affectionate, if irritating, ruffle of the hair. But his actions soon take a turn, revealing something dark behind that charming smile. Students become suspicious when friends slowly start to disappear, but little do they know that absolute jaw-dropping carnage is just around the corner.
Adapted from Yusuke Kishi's horror novel, Aku no Kyōten, Lessons of Evil [Aku no kyôten] Takashi Miike's commentary on tough high school life and dark student–teacher relationships, with plenty of black humour, absurd violence, and a splash of Cronenbergian fantasy added for good measure.
The film stars Hideaki Ito (Sukiyaki Western Django, The Princess Blade, Umizaru), Shota Sometani (Himizu, Tokyo Tribe, Sadako 3D), Fumi Nikaido (Himizu, Au Revoir L'Ete, My Man) and Takayuki Yamada (13 Assassins, Gantz, Crows Zero).
Takashi Miike was born on August 24, 1960. After studying under Shohei Imamura and a number of other directors, he made his debut in 1991 and has directed many productions of various genres since then. His innovative ideas and edgy direction are highly praised in and out of the country, and he has enthusiastic fans all over the world. In 1997, along with John Woo, he ranked as the tenth most promising film directors chosen by Time magazine in the U.S. In 2000, Audition won the International Film Critics Award at the International Film Festival Rotterdam. In 2003, Gokudo kyofu dai-gekijo: Gozu was shown during the Directors' Fortnight of the Cannes International Film Festival and received accolades from critics. In 2006, Big Bang Love, Juvenile A was shown in the Berlin International Film Festival. In 2010, 13 Assassins was in the competition section of the Venice International Film Festival, and in 2011, Hara-Kiri: Death of a Samurai was in the competition section of the Cannes International Film Festival.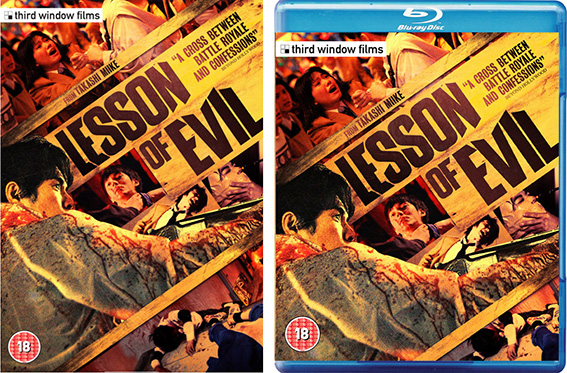 Lessons of Evil will be released on UK DVD and Blu-ray on 29th September 2014 by Third Window Films at the RRP of £14.99 for the DVD and £19.99 for the Blu-ray.
Special features will include: