A blast from the past for nostalgia fans and something different for their kids; the sixth DVD volume from The Children's Film Foundation Collection from the BFI contains three of the CFF's finest science fiction adventures: Supersonic Saucer (1956), Kadoyng (1972) and the oft-requested classic The Glitterball (1977).
For over 30 years the Children's Film Foundation produced quality entertainment for young audiences, employing the cream of British filmmaking talent. Newly transferred from the best available elements held in the BFI National Archive, these much-loved and fondly remembered films finally return to the screen after many years out of distribution in specially curated DVD releases from the BFI.
Supersonic Saucer tells the heart-warming story of Meba, an adorable baby flying saucer from Venus with otherworldly powers who arrives on an exploratory mission to Earth. Adopted by a group of children, he helps the youngsters prevent a robbery at their school.
In the delightful Kadoyng it looks as if nothing can stop the village of Byway being demolished to make way for a new motorway. Until, that is, a jovial visitor with an unusual appendage descends from the planet Stoikal and helps a trio of children foil the construction work. This enjoyable escapade stars stalwart comic actor Bill Owen (Last of the Summer Wine).
The award-winning The Glitterball sees two young boys come to the aid of a tiny spherical alien who is trying to return to its mothership while being pursued by both the Air Force and a devious petty crook. This perennial CFF favourite stars veteran British character actor Ron Pember.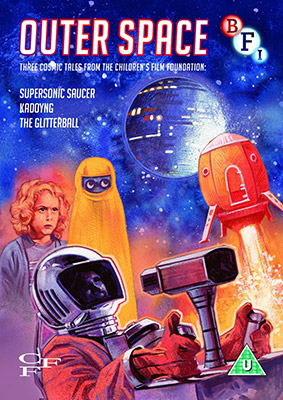 Outer Space will be released on UK DVD on 22nd September 2014 as part of the BFI's Sci-Fi: Days of Fear and Wonder, a nationwide celebration of Sci-Fi film and TV at the RRP of £19.99.
Featuring brand new High Definition sourced transfers of all the films, the release will include an illustrated booklet with extensive credits and new essays by The Glitterball director Harley Cokeliss, Alex Davidson, Robert Shail and Vic Pratt.