Before making the French crime classic Rififi, Jules Dassin was arguably the greatest of film noir directors, responsible for a string of gems including The Naked City, Thieves' Highway and Night and the City. Brute Force kickstarted that run of pictures and never did a film live up to its name more.
Burt Lancaster is Joe Collins, one of a number of convicts squeezed into cell R17 intent on staging a prison break. Not only does he need to return to the side of his cancer-ridden wife (Ann Blyth), he also wants to escape the clutches of sadistic warden Captain Munsey (an unforgettable performance from Hume Cronyn) who enjoys a reign of terror over the inmates.
Bursting onto American screens in the summer of 1947, Brute Force's incendiary cocktail of sensation, sweat and sadism excited heated debates among reviewers, as well as attracting eager audiences whose appetite for violent spectacle had clearly not been sated by the war. Following up from the immensely successful release of The Killers (1946), producer Mark Hellinger re-enlisted his newest Hollywood star Burt Lancaster to star in this dark prison film, and it went on to break box-office records in New York, Los Angeles, and several more cities in its seven-week run.
Boasting an unmatchable team, Brute Force features a screenplay by the acclaimed novelist/writer/director Richard Brooks (Blackboard Jungle, 1955); cinematography by William H. Daniels (Greta Garbo's lensman of choice), Hungarian composer Miklós Rózsa and most importantly, the incomparable director Jules Dassin, legend of film noir.
This deluxe edition will include an all-new high definition transfer of the film, alongside a new and exhaustive look at Burt Lancaster's early career by Kate Buford, author of Burt Lancaster: An American Life. The discs will also feature the theatrical trailer, stills gallery and a reversible sleeve featuring the original poster and newly commissioned artwork by Reinhard Kleist. The accompanying collector's booklet will contain new writing on the film by Frank Krutnik, author of In a Lonely Street: Film Noir, Genre, Masculinity, and Swell Guy, an obituary of Brute Force's producer, Mark Hellinger, by its screenwriter, Richard Brooks, illustrated with original stills.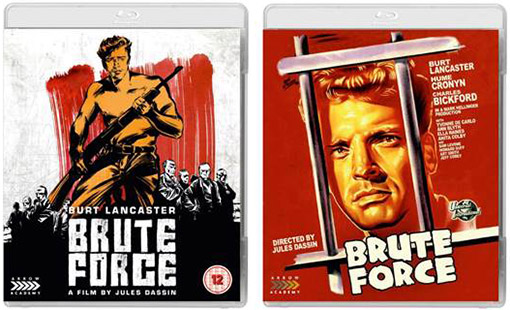 Brute Force will be released on UK dual format (DVD and Blu-ray in the same package) on 15th September 2014 by Arrow Films at the RRP of £24.99.
Featuring a new High Definition digital transfer of the film, original mono 1.0 audio (uncompressed PCM on the Blu-ray) and optional English subtitles for the deaf and hearing impaired, the disc will have the following extras:
Burt Lancaster: The Film Noir Years – an in-depth look at the actor's early career by Kate Buford, author of Burt Lancaster: An American Life

Theatrical trailer

Stills gallery

Reversible sleeve featuring the original poster and newly commissioned artwork by Reinhard Kleist

Collector's booklet containing new writing on the film by Frank Krutnik, author of In a Lonely Street: Film Noir, Genre, Masculinity, and Swell Guy, an obituary of Brute Force's producer, Mark Hellinger, by its screenwriter, Richard Brooks, illustrated with original stills