The perrenially busy people at Network Distributing have announced another title in their ongoing 'The British Film' collection, the 1937 Make Up.
Bux is born to a circus life, but at the wish of his parents he studies to become a doctor. Later, however, he forsakes a brilliant medical career for that of a circus clown. Joy, his young ward, is secretly in love with him, but tries to hide the fact. However, when Lorenzo, jealous at Bux's popularity and in love with Joy himself, turns to devious means to secure his fame and fortune, Joy finds herself in great danger.
Screen idol Nils Asther (Bluebeard, Our Dancing Daughters) stars opposite the multi-talented June Clyde (A Study In Scarlet, Hollywood Hoodlum) in a gripping tale of love and high drama under the big top.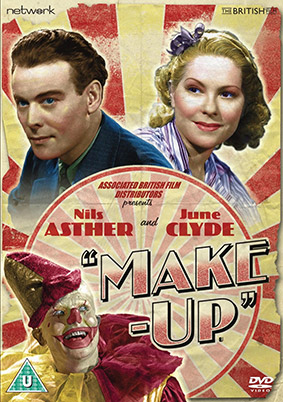 Directed by American-born producer, screenwriter, actor and director Alfred Zeisler (Fear, Enemy Of Women), Make Up will be released on UK DVD on 15th September 2014 at the RRP £9.99, courtesy of Network Distributing's 'The British Film' collection.
The only special feature is an image gallery (oh, and the usual instant play facility).
And here's a clip: