A gripping mix of friendship, violence and redemption erupts in the contemporary backwoods of the South in this adaptation of Larry Brown's novel Joe, celebrated at once for its grit and its deeply moving core. Directed by David Gordon Green (George Washington, Prince Avalanche, Pineapple Express, Undertow, All The Real Girls), the film brings Nicolas Cage back to his indie roots in the title role as the hard-living, hot-tempered ex-con Joe Ransom, who is just trying to dodge his instincts for trouble – until he meets a kid (Tye Sheridan – The Tree of Life, Mud) who awakens in him a fierce and tender-hearted protector.
Widely seen as a return to top for for both David Gordon Green (and after the debacle of Your Highness, he needs it) and Nicholas Cage, who turns in his best performance in years. As Peter Bradshaw said in his Guardian review, "He himself has real bite, and so does this film."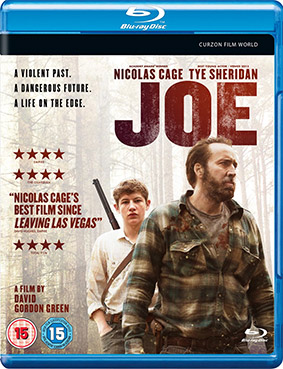 Joe will be released on UK DVD and Blu-ray on 6th October 2014 by Curzon Film World at the RRP of £15.99 for the DVD and £19.99 for the Blu-ray.
Extra features will include:
Making-of featurette

Trailer