Eureka! Entertainment have announced the release of The Thie of Bagdad, directed by the great Raoul Walsh and starring and produced by the legendary Douglas Fairbanks. The Thief of Bagdad is a fantasy spectacle of the first order, and one of the highest-grossing films of Hollywood's silent era. In 2008 it was named the 9th best fantasy film of all time by the American Film Institute.
This swashbuckling tale out of The Thousand and One Nights was Hollywood mega-star and producer Douglas Fairbanks' pet project, and coming on the heels of previous costume successes The Three Musketeers, The Mark of Zorro and Robin Hood, cemented Fairbanks' standing as both the leading action-adventure star of his day and one of the industry's first "multi-hypenate" powerhouses.
The actor stars as the impious thief Ahmed who has made a reputation as Baghdad's premiere plunderer. When he falls in love with a beautiful princess (Julanne Johnston) and the two determine to marry, her father the caliph intervenes, forbidding the union. Thus erupts a chain of circumstances involving a crystal ball, a magic apple, a pegasus, an invisibility cloak... and, of course, a flying carpet.
No expense was spared for The Thief of Bagdad: An Arabian Nights Fantasy – it was one the costliest films produced in Hollywood in the silent era, evident in both the stunning sets of William Cameron Menzies and the breakthrough special effects that weave throughout the picture. Expertly directed by Raoul Walsh, who would go on to become of America's foremost filmmakers, and the creator of such classics as The Bowery, High Sierra and White Heat, The Thief of Bagdad remains an enduring fantasy for the ages. The Masters of Cinema Series is proud to release Fairbanks and Walsh's epic, newly restored and featuring a magnificent score by maestro Carl Davies conducting the Philharmonia Orchestra, in a Dual Format release for the first time in the UK.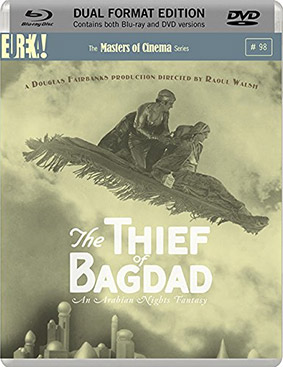 The Thief of Bagdad will be released on UK dual format (DVD and Blu-ray) on 24th November 2014 by Eureka! Entertainment as part of the Masters of Cinema series at the RRP of £19.99.
Extra features will include: