The high octane 1998 action-comedy-thriller Taxi, written and co-produced by Luc Besson (Nikita, Leon, The Fifth Element) and directed by Gérard Pirès (Steal, Sky Fighters), comes crashing to UK Blu-ray for the first time in November from Second Sight.
Pizza delivery guy Daniel (Samy Naceri – Days of Glory) quits his round, re-unites with his girlfriend Lily – played by screen siren Marian Cottilard (La Vie en Rose, The Dark Knight Rises) and embarks on his dream job as a taxi driver. But his need for speed and dangerous ways lead him into the path of young police detective Emilien (Frédéric Diefenthal). Daniel's reckless skills behind the wheel are just what the police need to catch a gang of serial bank robbers. Together the misfit pair team up for a wild ride of adrenaline-filled chases through the streets of Marseilles.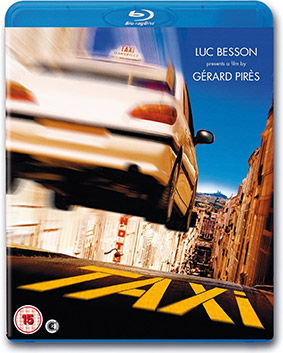 Taxi will make its UK Blu-ray debut on 10th November 2014 courtesy of Second Sight at the RRP of £19.99.
The only extra feature is a Making of Taxi featurette.
Even we couldn't track down a decent quality trailer that had English subtitles. How's your French?