Eureka! Entertainment have announced the release of Spione [Spies], considered by some to be the greatest silent film by Fritz Lang, the director of Metropolis and M. The film that set the standard for the modern spy film and was hugely influential on Alfred Hitchcock.
Fritz Lang's penultimate silent film, Spione [Spies], is a flawlessly constructed labyrinthine spy thriller. Hugely influential, Lang's famous passion for meticulous detail combines with masterful story-telling and editing skills to form a relentless tale of intrigue, espionage, and blackmail.
An international spy ring, headed by Haghi (Rudolf Klein-Rogge), uses technology, threats, and murder to obtain government secrets. As master spy, president of a bank, and music hall clown, Haghi leads several lives using instruments of modern technology to spearhead a mad rush for secrets — secrets that assert his power over others.
Setting in stone for the first time many elements of the modern spy thriller, Spione perhaps represents the zenith of Lang's silent artistry.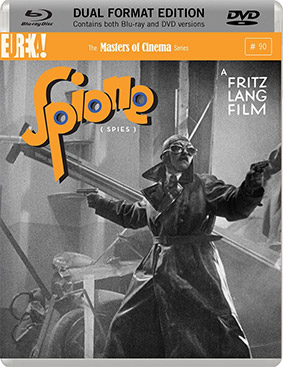 Spione will be released on UK dual format (Blu-ray and DVD) on 17th November 2014 by Eureka! Entertainment as part of the Masters of Cinema series at the RRP of £19.99.
Featuring a new high-definition 1080p presentation of the film on the Blu-ray, plus the original German intertitles with optional English subtitles, the disc will have these extras:
69 minute documentary about the film

40-page booklet including new and exclusive writing by critic Murielle Joudet and an essay by Jonathan Rosenbaum