I'm seriously starting to wonder how Network are able to keep putting out quality DVDs and Blu-rays as part of 'The British Film' collection at such an insane rate – seriously, if we had a full staff and were only reviewing Network discs, we'd have trouble keeping pace. Every few days there are a new set of announcements and there are some fascinating titles in here, films that might well have been lost to history without such spirited intervention.
The latest three, all coming to UK DVD on 13th October, are: Your Witness, a thriller directed by and starring Oscar-nominated Robert Montgomery; Timeslip, a taught thriller from the writer of Chitty Chitty Bang Bang, also known as The Atomic Man; and Lucky Girl, and upbeat comedy starring Gene Gerrard.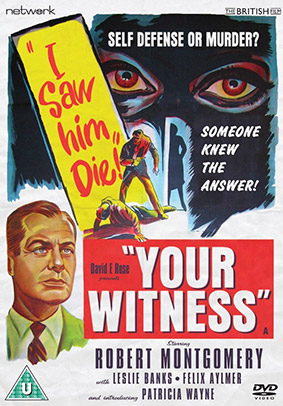 Your Witness (1950)
Adam Heyward, a leading American lawyer, hears that the man who saved his life at Anzio beach is now facing a murder charge, and decides to come to England to defend him. Arriving in a picture-postcard village, he learns of a female witness whose evidence might exonerate his friend, but who had fled the scene of the alleged crime in fear; in his efforts to trace her, Heyward faces a number of delicate and perplexing situations, all leading to a gripping climax.
An intelligent, well-made thriller both starring and directed by double-Oscar-nominated Hollywood veteran Robert Montgomery (The Secret Land, They Were Expendable), Your Witness also features the magnificent Leslie Banks (The Man Who Knew Too Much) in one of his final roles, and appearances by Stanley Baker (The Guns of Navarone), James Hayter (The Pickwick Papers) and Michael Ripper (Oliver Twist).
Your Witness (also known as Eye Witness) will be released on UK DVD on 13th October 2014 at the RRP of £9.99, courtesy of Network Distributing's 'The British Film' collection.
The only extra feature is an image gallery.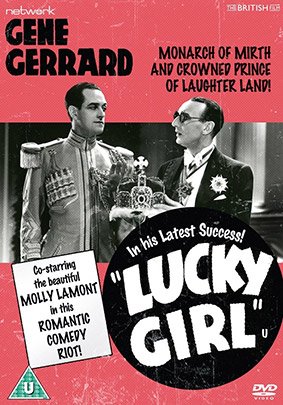 Lucky Girl (1932)
Stephan Gregorovitch, the unwilling king of a bankrupt Ruritanian country, along with his hucksterish chancellor and musically-inclined bodyguard, travel incognito to London for some fun. An invitation to a party held by Duke Hugo seems just the ticket, but the presence of jewel thieves in the vicinity puts paid to any ideas of a relaxing evening.
This jaunty comedy marked another success for former stage star Gene Gerrard (Out Of The Blue, Let Me Explain, Dear), playing here opposite Molly Lamont (The Awful Truth, Scared To Death) – his frequent screen partner during the early 1930s.
Lucky Girl (U) will be available to own on DVD from 13th October 2014 at the RRP £9.99, courtesy of Network Distributing's 'The British Film' collection.
Once again, there's an image gallery on board.
Timeslip (1955)
A near-lifeless body is recovered from the Thames, shot in the back, and science reporter Delaney identifies the victim as Stephen Rayner, a nuclear physicist who works at a nearby research institute. Delaney goes to the institute and is introduced to a man everyone believes to be Rayner; the likeness is uncanny. Delaney returns to the hospital and questions the now conscious man, who mumbles the name 'VASQUO' and initials 'U.T.C.'… a revelation that unfolds into a drama of international espionage.
A taut thriller interweaving sci-fi fantasy and a story of deadly industrial intrigue, Timeslip is a 1955 feature from Emmy Award-winning British writer and director Ken Hughes (Chitty Chitty Bang Bang). Showcasing strong performances from American leads Gene Nelson (Kissin' Cousins, Harum Scarum) and Faith Domergue (This Island Man, It Came From Beneath The Sea), this rare feature, also known as The Atomic Man, is presented here in a brand-new transfer from the original film elements in its as-exhibited theatrical aspect ratio.
Timeslip is available to own on UK DVD from 13th October 2014 at the RRP £9.99, courtesy of Network Distributing's 'The British Film' collection.