Three teenagers jump 'The Beast' – the infamous train that illegal immigrants board to take them from Guatemala, through Mexico, to the American border. The journey to a better life is fraught with danger. Facing exploitation at every turn, the only people they can trust on this perilous journey are each other.
Winning critical and audience praise world over, The Golden Dream [La Jaula De Oro] is the multiple award-winning debut feature establishes Diego Quemada-Diez as a new and powerful voice in both cinema and global social politics.
The film was the winner of nine Arieal Awards (the Mexican equivalent of the Academy Awards) in 2015, including Best Picture, Original Screenplay, First Feature, Actor, Upcoming Actor, Editing, Cinematography, Sound & Music.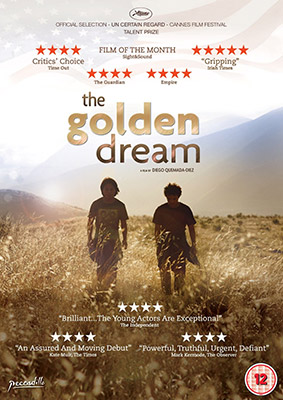 The Golden Dream will be released on UK DVD and On-Demand on 27th October 2014 by Peccadillo Pictures at the RRP of £15.99 for the DVD.
The extra features will include the following:
Short Film: I Want To Be A Pilot (2006) – This short film has won awards internationally including the Audience Award at the Los Angeles Film Festival. The movie has earned more than 50 international prizes and has participated in over 200 film festivals including Sundance, Locarno, Telluride and Edinburgh.

Interview with Director (UK Exclusive) – An in-depth discussion with director, Diego Quemada-Diez, in which he comments on the casting of The Golden Dream as well as his research into the stories with over 600 real migrants that feature in the film and working with non-professional actors. He explains the origins of the title and explores his views surrounding the circumstances of the making of The Golden Dream itself.