Simply Media have announced the UK DVD release of two acclaimed British TV series from past years, the 1981 The History and the 1990 A Sense of Guilt.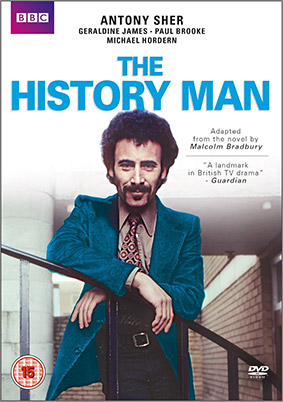 The History Man
Antony Sher stars in The History Man, the BBC's critically acclaimed four-part drama series based on Malcolm Bradbury's savagely satirical novel of seventies campus life.
Sher plays the moustachio'd Howard Kirk, left-wing Marxist, promiscuous womaniser and bully. An ambitious sociology lecturer, he delights in stirring up revolutionary feelings at the University of Watermouth, manipulating students, colleagues and lovers alike to further his career. The supporting cast features Geraldine James as Kirk's equally open minded but disenchanted wife; Paul Brooke as his hapless friend Henry; with Miriam Margolyes and Michael Hordern among his teaching colleagues. Adapted by Oscar-winning screenwriter Christopher Hampton, Bradbury's scathing novel is "one of the most influential of the 1970s" (The Guardian).
Legendary British actor Antony Sher shot to stardom for his unforgettable portrayal of the libidinous and ruthless Kirk in this biting satire of the permissive society, now hailed as a classic series and a faithful adaptation of a seminal novel.
The term 'the history man' entered the vernacular thanks in no small part to this adaptation of Malcolm Bradbury's seminal satire. The BBC's faithful adaptation proved to be a smash hit with audiences in the UK and around the world. It's a vivid picture of the permissive society of the early 1970s, although the levels of sex and nudity may have distracted audiences from its sharp observations and ironic intent.
The teaching of Sociology took a bashing in the media following the publication of the book in 1975 and the subsequent TV adaptation in 1981. Those who taught the progressive, fashionable, radical and popular subject lay bare and exposed in its aftermath. And the backlash began as Howard Kirk, magnificently played by Antony Sher, presented a trendy, manipulative left-wing lecturer, with a complicated marriage and even more complicated love life, slowly being demolished by his own hypocrisy and pretentions.
The History Man will be released on UK DVD on 13th October 2014 by Simply Media at a yet to be confirmed RRP.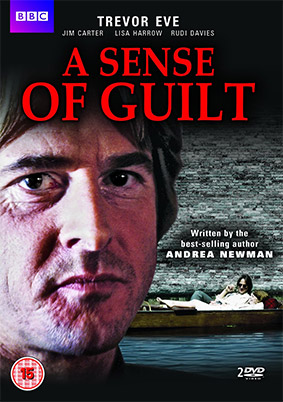 A Sense of Guilt
Trevor Eve (Waking the Dead, Troy) is Felix Cramer, a mediocre and frustrated novelist who is fast approaching middle age and suffering writer's block. When Cramer develops a fascination for the eighteen year old daughter of his best friend Richard (Jim Carter) an illicit affair gradually begins. Sally (Rudi Davies) is about to leave for university but falls hopelessly in love. When the affair is exposed, simmering family tensions finally explode and Cramer's actions come to dramatically affect the lives of everyone around him.
From author Andrea Newman (A Bouquet of Barbed Wire), this gripping drama examines the damaging consequences of a dangerous affair and features Trevor Eve in one of his most anti-heroic roles. So convincing was his portrayal that Newman received letters from women claiming to know the real-life love-rat she based the character on.
This seven part BBC series is widely hailed as a classic drama exploring the complexities and contradictions of love, friendship, marriage and adultery.
A Sense of Guilt made headlines when it was first broadcast on BBC1 in 1990. Trevor Eve relished his role as the lascivious cad who preyed on young flesh. Eve has become a household name thanks to his starring role in in several big budget sensational adaptations of the bestselling author Andrea Newman's controversial novels. He played sexually manipulative anti-heroes in A Sense of Guilt and An Evil Streak (ITV, 1999). Before that Eve first set hearts throbbing as Seventies sleuth Eddie Shoestring. He later went onto star in numerous popular dramas including The Politician's Wife and Waking the Dead. And recently he returned to Andrea Newman, starring in ITV's 2010 remake of her headline-making A Bouquet of Barbed Wire.
Andrea Newman's work as novelist and scriptwriter has always been an intriguing mix of autobiography, biography and fantasy, and audiences enjoy working out which is which. "She has a knack of tapping into the zeitgeist – the seismic changes in family life since WWII and people's anxieties about their relationships, although if asked, most people would say she writes about sex" (BFI).
A Sense of Guilt will be released on UK DVD on 13th October 2014 by Simply media at a yet to be confirmed RRP.