A teenager is caught between his adulterous father and psychotic mother. An extreme act of revenge forces father and son to deal with its bloody aftermath.
This pitch-black study of lust and guilt, circles this destructive family whilst questioning one's basic sexual desires.
Initially banned by the Korean Media Ratings Board, Moebius is the latest tour-de-force from Cannes-award winning director Kim Ki-duk (The Isle; Spring, Summer, Autumn, Winter...and Spring; Samaritan Girl), and stars Cho Jae-hyun (Crocodile, The Isle, Bad Guy) as Father, Seo Young-ju (Juvenile Offender) as Son, and Lee Eun-woo as Mother/Young Woman.
Disturbing, provocative and playing completely without dialogue, Moebius generated some serious buzz on its festival screenings and UK cinema release, and was described by Slant Magazine as, "a film that rigorously balances strategies of camp, critique, and sympathy even as its characters push themselves to annihilative extremes," whilst CineVue warns that "Moebius is a devilish perversion that can be enjoyed even whilst averting one's own eyes in utter revulsion."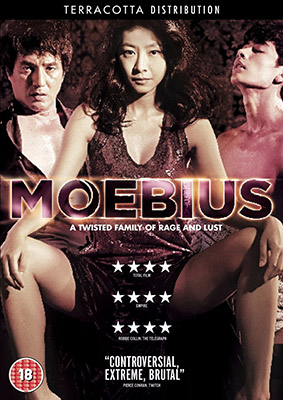 Moebius will be released on UK DVD and VOD on 13th October 2014 by Terracotta Distribution at the RRP of £14.99 for the DVD edition.
Extra features will include:
Exclusive introduction by director Kim Ki-duk

Exclusive interview with actor Seo Young-ju

45 minutes Q&A with actor Seo Young-ju at Terracotta Far East Film Festival, London

Moebius UK trailer