Arrow Video has announced the release of the 1979 B-movie sci-fi/horror mash-up The Visitor, available on Blu-ray & DVD in October. A bizarre blend of The Exorcist, The Omen and Close Encounters of the Third Kind, The Visitor was criticised and humorously dubbed 'a turkey made of cement', yet it has recently gone on to become something of a cult classic in its own right.
At first glance, Katy Collins is just like any other normal 8-year-old girl – but appearances can dangerously deceptive. As it turns out, Katy is the Earthly incarnation of an ancient evil by the name of Sateen – an intergalactic supernatural entity who was vanquished many light years ago. Katy possesses tremendous powers making her capable of great destruction – powers which some are keen to eradicate, and some to harness…
The Visitor is the ultimate experience in B-movie madness from Ovidio G. Assonitis, producer extraordinaire and director of such deliciously guilty pleasures as Beyond the Door and Tentacles. Described by various sources as "one of the most mind-altering cinematic experiences of the 1970s" and "the Mount Everest of insane '70s Italian movies", The Visitor brings together an astonishing ensemble cast (Lance Henriksen, Shelley Winters and Mel Ferrer to name but a few) in a hallucinatory intergalactic tale of a demonic little girl and her pet hawk. In the words of one astute reviewer, The Visitor is "the most fun you can have in a movie theatre without risking permanent brain damage"!
In addition to offering a high definition (1080p) and Standard Definition presentations of the feature, this release will also feature interviews with star Lance Henriksen, screenwriter Lou Comici and cinematographer Ennio Guarnieri. The reversible sleeve features original artwork and a praised newly commissioned cover art by Erik Buckman. The collector's booklet features new writing on the film, illustrated with original stills.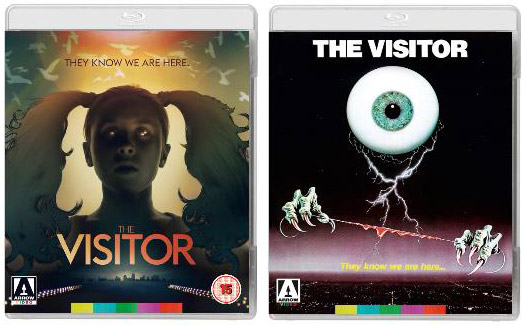 The Visitor will be released on UK dual format (Blu-ray and DVD) on 6th October 2014 by Arrow Films at the RRP of £19.99.
Featuring a High Definition Blu-ray (1080p) and Standard Definition DVD presentation of the feature, transferred from original film elements, original mono audio (uncompressed PCM on the Blu-ray) and and optional English subtitles for the deaf and hard of hearing, the release will have these extras:
Interview with star Lance Henriksen

Interview with screenwriter Lou Comici

Interview with cinematographer Ennio Guarnieri

Reversible sleeve featuring original and newly commissioned artwork by Erik Buckman

Collector's booklet featuring new writing on the film and more!