Directed by Roland Joffé and brilliantly scripted by Bruce Robinson (Withnail and I), The Killing Fields is the critically acclaimed and heart-wrenching film based on a true story of friendship, loyalty, warfare and survival during The Cambodian 'Year Zero'.
It follows the relationship between Sydney Schanberg (Sam Waterston – Law and Order: Special Victims Unit), a Pulitzer Prize winning New York Times correspondent, and Dith Pran (Haing S. Ngor – Heaven and Earth), the Cambodian aide who remains behind following the evacuation of Cambodian citizens by the US army. After the American withdrawal the communist Pol Pot regime takes over and the Khmer Rouge captures Schanberg and Pran along with other western journalists. Whilst Schanberg gets deported safely back to the States, Pran is sent to one of the notoriously brutal 're-education camps'.
The Killing Fields features an outstanding supporting cast including John Malkovich, Julian Sands and Spalding Gray, whose celebrated monologue feature Swimming to Cambodia recounted his experiences working on the film. When released back in 1984, critics and audiences alike reaped praised on the film and it is widely regarded as a modern classic. Nominated for seven Academy Awards (including Best Picture and Best Director), the film also dominated that year's BAFTA Awards, taking eight awards including Haing S. Ngor for both Best Actor and Most Outstanding newcomer to Film categories, as well as winning Best Screenplay and Best Film.
A real-life survivor of the Pol Pot Regime; Haing S. Ngor moved to America in August 1980 and was cast as Dith Pran, despite having no previous acting experience. Ngor saw this as an opportunity to tell the world the truth behind 'Year Zero' and is quoted as saying: "I wanted to show the world how deep starvation is in Cambodia, how many people die under communist regime. My heart is satisfied. I have done something perfect."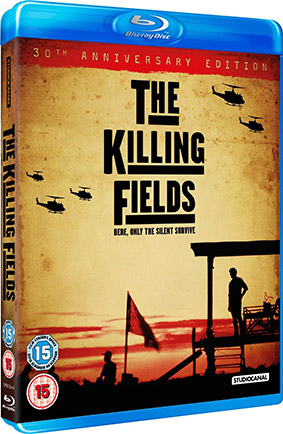 The Killing Fields 30th Anniversary Edition will be released on UK Blu-ray on 3rd November 2014 by Studiocanal at the apparent RRP of £29.99. Seems a lot, but that's what we're assured.
Special features will include:
Brand new interview with director Roland Joffé

Brand new interview with screenwriter Bruce Robinson

Commentary with director Roland Joffé

Interview with producer David Puttnam

Trailer