"At its most obvious level — the raw, startling and shocking imagery — [Shivers] has never been bettered, not even by the director. It is at this level of outrageous imagery that the film first assaults any viewer. One experiences a tremulous sensation that suggests one might have witnessed the end of the unconscious. There it seems to be, thrown up on the screen in all its truly perverse and initially repulsive splendour, unmasked and unashamed. Shivers was beyond one's worse fears of repressed forces, desires and twisted sexual fantasies. It was then, and remains, an unforgettable experience. It inevitably opened the floodgates of disgust and outrage — purely at the image level."

Cronenberg on Cronenberg, first published in 1992 by Faber and Faber Limited
Arrow Video has announced the home entertainment release of David Cronenberg's debut 1975 feature Shivers, one of the most controversial and ground-breaking horror films ever to escape from the wilds of Canada. Drawing influences from works as diverse as Night of the Living Dead (1968), J.G. Ballard's novel High-Rise (1975) and Invasion of the Body Snatchers (1956), Shivers will be available on Blu-ray & DVD and as an exclusive Blu-ray Steelbook from 13th October. The film follows the chilling story of a modern apartment complex overrun by a sexually transmitted parasite that insidiously spreads throughout the building's population, turning the tenants into sex-obsessed zombie-like killers.
Initially reviled in its native land (some critics took exception to the fact the film was largely funded by the Canadian taxpayer), Shivers is an intensely claustrophobic, subversive masterpiece and an essential entry in the oeuvre of one of the horror genre's most gifted auteurs. Some 40 years after its release, it still retains its power to shock.
Starliner Island is an idyllic community. Cut off from the rest of the world, the luxury apartment block affords its occupants the chance to escape from the hustle and bustle of the big city. But this isolation is to prove fatal when a new breed of parasite – a combination of aphrodisiac and venereal disease which arouses sexual aggression in its hosts – is let loose in the building, resulting in an orgy terror and mayhem.
Known under a host of alternate titles such as The Parasite Murders and They Came From Within!, Shivers is the startling debut full-length feature from director David Cronenberg which anticipates the body-horror concerns of his later films such as The Fly and Videodrome.
Informed in part by Canada's historical medical tragedies, Cronenberg's feature length debut explores the same kind of abstract concerns as in his early productions Stereo (1969) and Crimes of the Future (1970), but with a more traditional and focused narrative horror framework. Shivers' clever combination of taboo-busting sex, medical terror and squishy creature effects introduces novel twists on the usual depiction of doctors and disease that the novice writer-director would return to as he evolved into one of the 1980s' most original and provocative horror auteurs.
This new release which boasts a new High Definition Digital Transfer supervised and approved by writer-director David Cronenberg will include a host of exciting features including a brand new documentary, Parasite Memories which features interviews with stars Barbara Steele, Allan Kolman and Lynn Lowry, special effects genius Joe Blasco and film critic Kier-La Janisse.
Other extras include On Screen! an original episode of the Canadian television programme which documents the release history of Shivers, featuring interviews with Cronenberg, producer Ivan Reitman, as well as other cast and crew. Alongside this, the disc will also include a specially-commissioned video essay; From Stereo to Video by Caelum Vatnsdal, author of They Came from Within: A History of Canadian Horror Cinema, charting Cronenberg's career from his experimental beginnings through to Videodrome, his first major studio picture.
The reversible sleeve features original artwork and a newly commissioned cover art by Nat Marsh. The collector's booklet features new writing on the film by Paul Corupe, creator of the Canuxploitation website, reprinted excerpts of Cronenberg on Cronenberg and more, illustrated with original archive stills and posters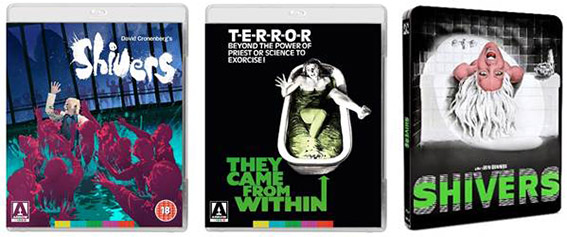 Shivers will be released on UK dual format (Blu-ray and DVD) on 13th October 2014 by Arrow Films at the RRP of £24.99 for the regular dual format and £29.99 for the dual format Steelbook Edition.
Boasting a new High Definition Digital Transfer supervised and approved by writer-director David Cronenberg, original mono audio (uncompressed PCM on the Blu-ray) and optional English subtitles for the deaf and hard of hearing, the release will have these extra features:
Parasite Memories: The Making of Shivers – A brand new documentary featuring interviews with stars Barbara Steele, Allan Kolman and Lynn Lowry, special effects genius Joe Blasco and film critic Kier-La Janisse

On Screen! – An episode of the Canadian television programme which documents the release history of Shivers, featuring interviews with Cronenberg, co-producer Don Carmody, as well as other cast and crew

From Stereo to Video – A specially-commissioned video essay by Caelum Vatnsdal, author of They Came from Within: A History of Canadian Horror Cinema, charting Cronenberg's career from his experimental beginnings through to Videodrome, his first major studio picture

Original theatrical trailer

Reversible sleeve featuring original and newly commissioned artwork by Nat Marsh

Collector's Booklet featuring new writing on the film by Paul Corupe, creator of the Canuxploitation website, reprinted excerpts of Cronenberg on Cronenberg and more, illustrated with original archive stills and posters