It's 80s flashback time as Metrodome announce the UK release of Soul Boys of the Western World, the story of Spandau Ballet, which will be available on DVD and Blu-ray as a limited edition 3 disc box set in October. With over two hours of rare footage and exclusive content, these special edition box sets are exclusive to Amazon and include three never before seen images.
Soul Boys of the Western World is a journey through the 1980s and beyond; the story of a band, an era and how one small gathering of outsiders in London shaped the entire world's view of music and fashion. The film is not only a fascinating, often hard-hitting social and cultural document of the time, but a brutally honest story of how friendships can be won, lost and ultimately regained.
The film received its World Premiere in Competition at the SXSW Film Festival in Austin, Texas in March, to rave reviews. Long-time Julien Temple collaborator George Hencken won acclaim for her honest and uplifting archive-only feature documentary, which combines newsreel footage with never-before-seen video from the band's personal archives, as well as candid interviews with all five band members.
Spandau Ballet have sold over 25 million records, scored numerous multi-platinum albums and amassed 23 hit singles across the globe since their humble beginnings as a group of friends with dreams of stardom in the late 1970s. It wasn't long before they became fully fledged members of the iconic Blitz Club scene and established themselves as one of the super-groups of the 80s. After a decade apart, the band reformed in 2009, embarking on a sold-out tour. Soul Boys of the Western World marks the first time their story has been documented on film.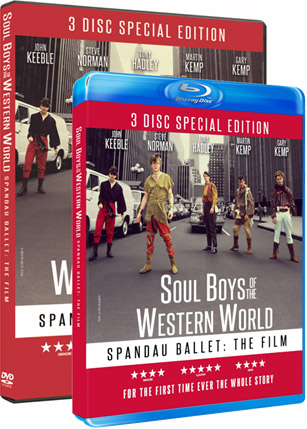 Soul Boys of the Western World will be released as a 3-disc UK Blu-ray and DVD on 27 October 2014 by Metrodome Distribution aty the RRP of £29.99 for the Blu-ray and £24.99 for the DVD. The film will also be available as a single disc Blu-ray for £19.99 and a single disc DVD for £17.99.
Extra features on the 3-disc Special Edition will be:
BBC Nationwide Photoshoot for Axiom, 25th February 1981

BBC Nationwide Interview, February1981

Interview by Pat Wardsley at the Underground Club, New York, 5th May 1981

Never Seen Before Performance at the Underground Club, 6th May 1981

Isle of Wight Festival, 13th June 2010

To Cut A Long Story Short Time Machine Edit

Theatrical Trailer