Arrow Video has announced a limited edition Blu-ray and DVD box-set of the cult classic Withnail and I, set for release on 27th October 2014 in a stunning new 2k restoration. This new set comes loaded with a host of exciting special features and is housed within a limited edition 200-page hardback book containing new writing on the film, reprints of key articles and the black and white production stills of Murray Close and Sophie Baker. The set will also include writer-director Bruce Robinson and Richard E. Grant's follow-up project, How To Get Ahead in Advertising, in a newly-restored Blu-ray print.

Withnail and I
Camden Town, the arse-end of the sixties. Two struggling, unemployed actors decide some respite is in order and so depart their miserable flat for a week in the Lake District – one that will involve rain, booze, minimal supplies, a randy bull and an even randier Uncle Monty.

Based on the real-life experiences of former actor turned writer/director Bruce Robinson, Withnail and I has become one of British cinema's most fondly remembered comedies. A cult film in the truest sense that has also become a classic.

Perfectly cast – with career-defining roles for Richard E. Grant, Paul McGann, Richard Griffiths and Ralph Brown – and crammed with irresistibly quotable dialogue, Withnail and I is a sheer delight, even on the umpteenth viewing.

How to Get Ahead in Advertising
wo years after the release of Withnail and I, Richard E. Grant and writer-director Bruce Robinson reunited for a savage attack on Thatcher's Britain and advertising culture.
Denis Dimbleby Bagley (Grant) is an ad executive plunged into a nervous breakdown whilst working on a campaign for pimple cream. A boil develops on his neck, but this isn't any ordinary boil: soon it develops eyes, ears, a moustache and a mind of its own…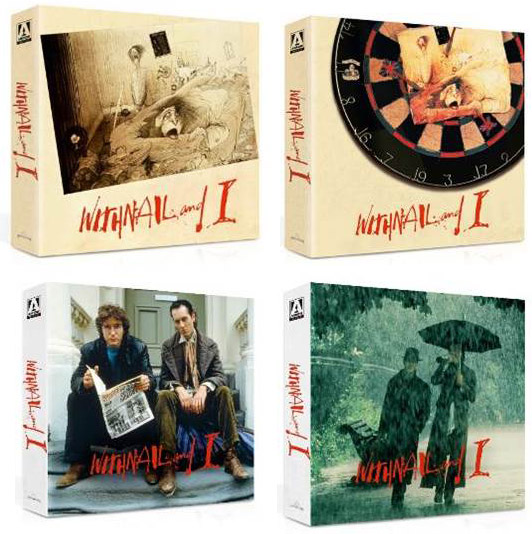 Featuring a new 2K restoration of Withnail and I from the original camera negative, supervised and approved by director of photography Peter Hannan, this limited edition dual format edition (Blu-ray and DVD) will be released in the UK by Arrow Films on 27th October 2014 at the RRP of £54.99.
The package will feature:
Bruce Robinson's follow-up feature, How to Get Ahead in Advertising, newly transferred from original film elements and approved by director of photography Peter Hannan
High Definition Blu-ray (1080p) and Standard Definition DVD Presentation of both films

Original uncompressed mono 1.0 PCM audio for both films

Optional English subtitles for the deaf and hard-of-hearing

Audio commentary by writer-director Bruce Robinson

Audio commentary by critic and writer Kevin Jackson, author of the BFI Modern Classic on Withnail and I

ll four original 'Withnail Weekend' documentaries, first screened on Channel 4 in 1999, including The Peculiar Memories of Bruce Robinson, which looks at the director's career, Withnail & Us, which focuses on the film's making, and two shorter documentaries, I Demand to Have Some Booze and Withnail on the Pier

An appreciation by Sam Bain, co-creator of Peep Show and Fresh Meat

Newly filmed interviews with Michael Pickwoad, production designer on Withnail and I and How to Get Ahead in Advertising

Theatrical trailers for both films

Exclusive limited edition hardback book packaging (2,000 copies) containing new writing on the films, reprints of key articles on Withnail and I, deleted scenes and more across 200 pages, illustrated with original production stills