A major new film on the work of Gerry and Sylvia Anderson, Filmed In Supermarionation is the definitive documentary about the culturally iconic puppet series which they developed to great success throughout the 1960s. This includes Stingray, Captain Scarlet and, most famously, Thunderbirds – programmes five decades old that still resonate with young and older viewers alike, and which continue to find new audiences to this day.
Directed and produced by Stephen La Rivière, Filmed In Supermarionation is a screen adaptation of his critically acclaimed book, telling the story of the Anderson's productions using a wealth of previously unseen archive footage, new interviews with those involved, and clips from the shows themselves.
This Blu-ray set also includes This is Supermarionation – key episodes in stunning High Definition, most of them for the very first time. Transferred in their original full-screen aspect ratio from the 35mm film materials, the new transfers maximise available picture area and visible detail, presenting the episodes as you've never seen them before – offering a taste of what the 21st century has in store for all Gerry Anderson fans!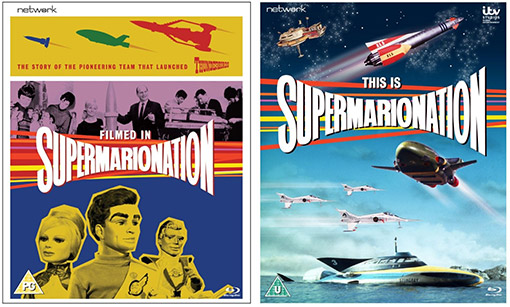 Filmed in Supermarionation will be available on UK Blu-ray and DVD on 20th October 2014 by Network Distributing at the RRP of £24.99 for the Blu-ray set and £14.99 for the DVD. The Limited Edition Box Set (full details here) will cost £100 plus postage direct from Network.
Special features will include:
Deleted Scenes Package: A selection of material that was unused in the final documentary

Filming in Supermarionation: A 3 minute short about filming the puppets and effects for the documentary

Special Effects Reel: A reel of the special effects shot for the documentary

Gerry and Sylvia in America: Colour footage shot by Barry Gray of Gerry and Sylvia at the World's Fair in New York – this has been synced to a music track

Tomorrow's World: Behind the scenes at Century 21 looking at their video assist system

Something for the Children: Interview with Sylvia Anderson for the BBC

Parade Behind the Scenes (with sound synced up): Colour behind-the-scenes film