Arrow Films' Arrow Academy label has announced the release of Jules Dassin's classic film noir The Naked City, which will make its worldwide Blu-ray debut on 27th October. The Naked City is the latest Dassin title to join the Arrow Academy collection following Rififi and Brute Force.
New York, the middle of summer. A blonde ex-model is murdered in her bathtub and detectives Muldoon (Barry Fitzgerald) and Halloran (Don Taylor) are assigned to the case. Their investigation will lead them through the entire city, from Park Avenue to the Lower East Side, culminating in a thrilling climax atop the Williamsburg Bridge.
The Naked City, shot partially in documentary style, was filmed on location on the streets of New York City and features landmarks such as the Williamsburg Bridge and the Whitehall Building. Winning two Academy Awards, one for cinematography and another for film editing, the film has more recently gone one to be selected for preservation in the United States National Film Registry by the Library of Congress as being "culturally, historically, or aesthetically significant".
Its visual style was inspired by New York photographer Weegee, who published a book of photographs of New York life entitled Naked City (1945). Weegee was hired as a visual consultant on the film, and is credited with helping to craft its imagery.
Both Screenwriter Albert Maltz and Dassin were to subsequently fall foul of the notorious House Un-American Activities and Dassin, himself, was forced to leave the US. It's ironic that having so clearly proved himself capable of telling us of the eight million stories of his American home, he was forced to leave that very place having only told one.
This deluxe edition will include an all-new high definition transfer of the film, alongside a wealth of extras including New York and The Naked City, a newly-filmed look at New York's relationship with the moving image by Amy Taubin, a 40-minute interview with Jules Dassin at LACMA with Bruce Goldstein in which the director discusses his career and The Hollywood Ten and also the 1950 documentary short on the ten filmmakers blacklisted from Hollywood for their refusal to name names before the House of Un-American Activities, including The Naked City's screenwriter, Albert Maltz.
The disc will also feature the striking artwork by Vladimir Zimakov and an extensive booklet, including essays on the main feature by Alastair Phillips (co-author of the BFI Screen Guide, 100 Film Noirs), on Oscar-winning cinematographer by Barry Salt of the London Film School, and on the spin-off TV series by Sergio Angelini.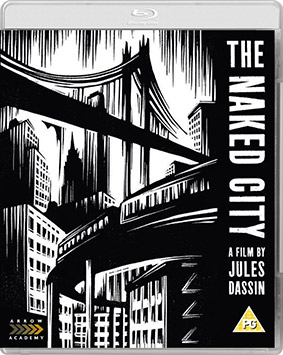 The Naked City will be released in the UK as a dual format edition (Blu-ray and DVD) on 27th October 2014 by Arrow Films as part of the Arrow Academy label at the RRP of £19.99.
Featuring a new High Definition Blu-ray (1080p) and Standard Definition DVD transfer of the film, original mono 1.0 audio (uncompressed PCM on the Blu-ray) and optional English subtitles for the deaf and hearing impaired, plus the following extra features:
Audio commentary by screenwriter Malvin Wald

Jules Dassin at LACMA – a 40-minute interview with Bruce Goldstein in which the director discusses his career

The Hollywood Ten – a 1950 documentary short on the ten filmmakers blacklisted from Hollywood for their refusal to name names before the House of Un-American Activities, including The Naked City's screenwriter, Albert Maltz

New York and The Naked City – A personalised history of NY on the big screen by critic Amy Taubin

Gallery of production stills by infamous photojournalist Weegee

Theatrical trailer

Reversible sleeve featuring the original poster and newly commissioned artwork by Vladimir Zimakov

Collector's booklet containing new writing on the film by Alastair Phillips, Barry Salt and Sergio Angelini, illustrated with original production stills