TP91 is a secret and highly complex formula which will enable man to project himself through time and space. Work in the field is conducted with the utmost security, using the finest scientific brains in the country. When Dr Munro succeeds in solving the first part of the formula, he is found dead before he is able to pass on the invaluable result, with the all-important paper bearing his calculations in ashes on his desk. His successor, government scientist Dr Mark Davidson, quickly senses that both he and his new wife are now in grave danger.
From the award-winning Avengers director John Krish comes the cleverly conceived, eerily atmospheric sci-fi chiller, Unearthly Stranger, starring future Baron Munchausen John Neville as a scientist engaged in an experimental project like no other.
Unearthly Stranger is presented here in a brand-new High Definition transfer from the original film elements, in its as-exhibited theatrical aspect ratio.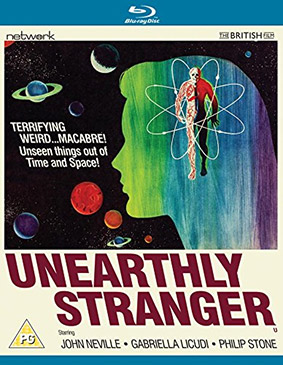 Unearthly Stranger will be released on UK Blu-ray and DVD on 3rd November 2014 by Network Distributing as part of 'The British Film' collection at the RRP of £14.99 for the Blu-ray and £9.99 for the DVD.
The special features are: