Criss-crossing the UK, Tony Benn bears witness to the major social and political upheavals and events that influenced him during his life and political career. From the introduction of nuclear power stations to Britain, his move to the left following his ministerial career, battling the Tory government during the miner's strike, his personal fight to renounce his peerage and being a hate figure for the right-wing media, the film lifts the political mask to reveal a very human face.
Tony Benn: Will and Testament is a unique autobiographical feature-length film in which Tony Benn – political firebrand, prolific diarist, writer, charismatic anti-war campaigner, husband and father – presents his own personal reflections on his childhood and youth, marriage and family, political career and retirement describing his privileged background, his political awakening, his fiercely held socialist beliefs, and the successes and failures of his efforts to implement them.
Archive news footage and Tony's personal photographic and film collection illustrating his achievements, and his cogent, strongly felt arguments all help to create a history of Britain during the latter half of the 20th century.
Widely acclaimed on its cinema release, the film was described by Empire as a "Masterful political bio... Kite's brilliantly conceived and immaculately realised documentary traces Benn's private and public story from political awakening to veteran campaigner... A fitting memoir to a memorable political life."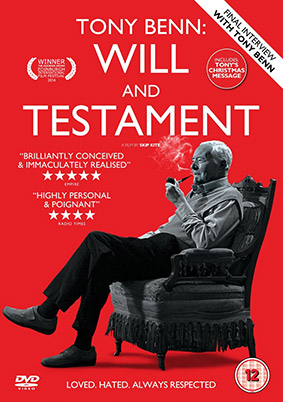 Tony Benn: Will and Testament will be released on UK DVD on the 3rd November 2014 from Spirit Entertainment at the RRP of £17.99.
We don't have full details of the extra features yet, but do know that it includes 'Tony's Christmas Message'. It says so on the box.